Give your customers the best booking experience with British Airways NDC

There are few things more magical than taking to the skies ready for a big trip or family reunion. On the other hand, there are few things less exciting than the flight booking experience that got you there. It's transactional and hasn't changed much in the last decade. As a travel seller, it's also your first touchpoint with customers and an opportunity to delight or disappoint them.
Traditionally, you had to connect to airlines through a Global Distribution System (GDS) to access flights. As some of the first computerised platforms in the world, the big GDS players have done wonders to grow passenger traffic. They were initially built for an age where the internet was still an obscure research project but the technology doesn't meet the needs of online retailing today: GDS platforms don't provide the best flight content and they don't let airlines offer flexible, dynamically priced ancillaries or modern order management capabilities.
Duffel is building on New Distribution Capability (NDC) to solve the challenges faced by travel sellers so you can focus on delivering great experiences.
The British Airways NDC programme
British Airways (BA) first introduced NDC capabilities back in 2015 and has been steadily improving its offering since then. In January 2022, the airline announced a new NDC development framework with mandatory capabilities for service providers to offer travel sellers this year. Order management – also known as servicing – is the first capability flow to become mandatory.
Order management capabilities are game-changing for travel sellers. Your customers are increasingly demanding flexibility for travel plans and frictionless booking experiences. You can now deliver this with the Duffel Flights API and British Airways NDC.
'By developing servicing, customers will be able to process any changes online and not rely on offline processes. This will improve partners' customer proposition and ensure customers are self-sufficient.' – British Airways.
Meeting traveller expectations
Travellers are used to the highest standards of customer experience in other industries and travel isn't any different. They're also willing to switch travel providers and airlines if their expectations aren't met.
The foundations for a great booking experience include the capability to search, book, and manage flights. These are available today with Duffel and British Airways. Your customers can book BA flights to more than 170 destinations around the world, cancel and request a refund on flights, or choose a seat and add extra bags themselves at the time of booking without contacting a travel operations team. This self-serve model is in stark contrast to GDS solutions in the past with expensive travel operations fees and restricted online change capabilities.
Travellers also expect airline choice when it comes to booking. Once you connect to Duffel, you can offer your customers flights from 300+ airlines including 30+ Direct Connects. You can get started quickly with a smooth Duffel integration with thanks to in-depth developer documentation, client libraries, and pre-built components.
Exceeding traveller expectations
When travellers book through third parties today, it's rarely possible for them to manage those bookings themselves. You can delight your customers by offering additional servicing features like adding seats and bags to bookings, using loyalty programme benefits, and managing both passenger-initiated and airline-initiated changes. These capabilities go beyond those available through traditional Global Distribution Systems and they showcase the power of NDC.
Add extras to an order: seats and bags
Your customers want to choose their seats and add extra bags to their bookings. They also don't want to speak to a travel operations representative to do it. This is a key part of the flight booking process and an opportunity for you to add your own markup and save time for your travel operations team.
You can't offer paid seats on British Airways flights if you're using typical GDS solutions but you can easily implement the capability with Duffel Flights API. You can connect to the API and build your own user interface or use the Seat Selection component built by the Duffel engineers.
The component takes relevant information including seat price and aircraft layout and transforms it into a standardised component that can be quickly dropped into your application. This saves your engineering team weeks or months of development time and makes it easy for customers to use.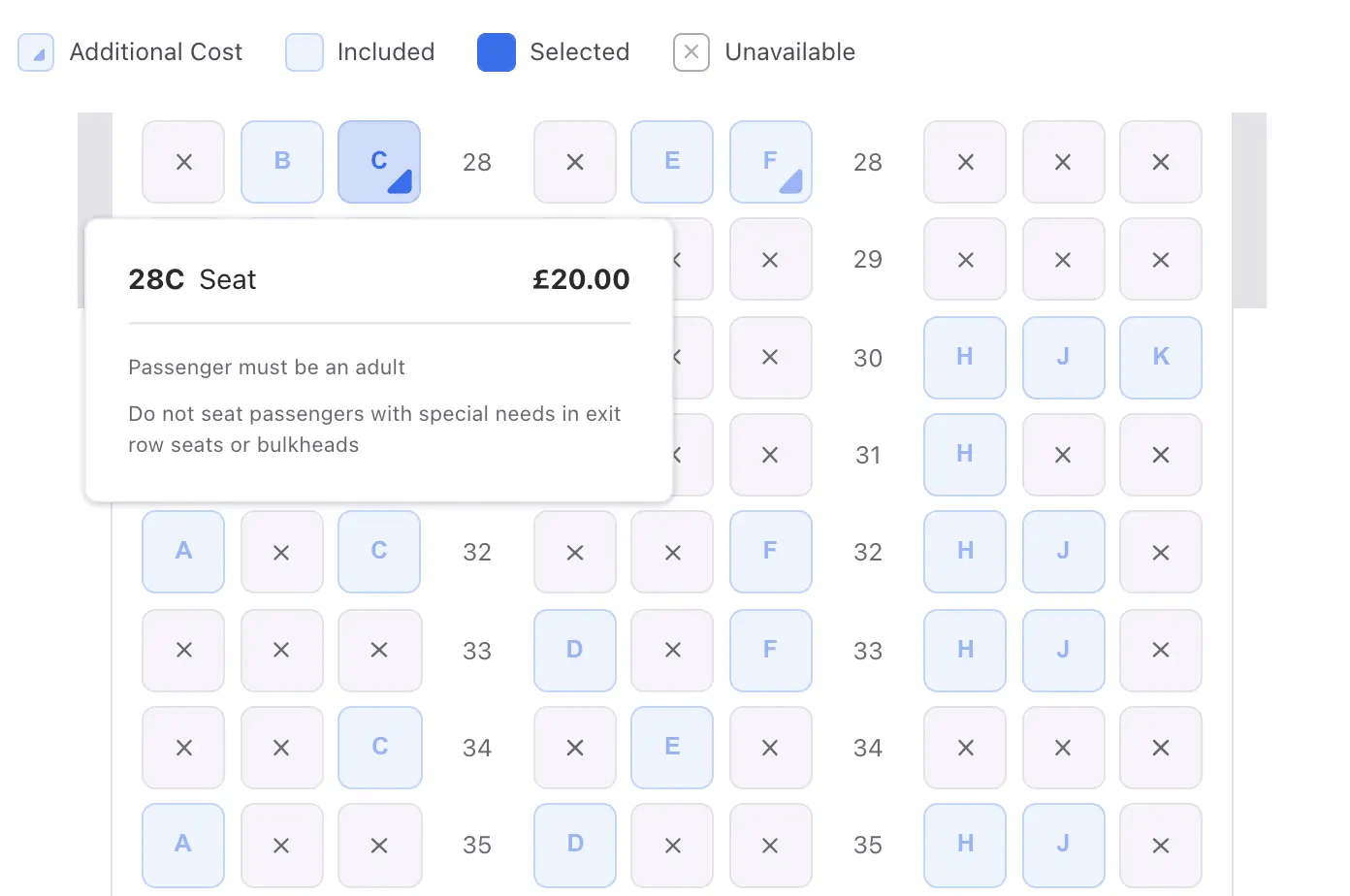 For customers with hold luggage, bags aren't always included in the ticket price. The rise of low-cost carriers and seat-only ticket options means that bags are increasingly becoming a paid extra offered by airlines. This gives you another opportunity to generate extra revenue by charging a markup on the cost.
The Additional Baggage component has been designed to help you create a seamless user experience; the complexity of baggage options, weight, and dimensions are all handled behind the scenes.

Using loyalty programme benefits
Loyalty programmes are an important part of the travel experience, especially for corporate and frequent flyers. To delight your customers and give them a special experience, you can collect their loyalty programme number and deliver benefits depending on their tier. For example, if they are entitled to free checked baggage or free seat selection, they can manage these themselves without contacting your travel operations team.
Passenger-initiated changes
Imagine if one of your customers has a flight to New York for a job interview that gets pushed back by a week. Or another customer decides they want to arrive in San Francisco three hours early to watch a newly announced concert. These passenger-initiated changes can happen at any time.
When your customers' plans change they want the flexibility to update their bookings. In the past, you would've had to train and manage a large travel operations team to manage these changes. You can now automate these changes with Duffel Flights API and let travellers manage updates themselves for British Airways flights. And with 90% of these booking changes being dates or times, it can save your travel ops team hours of time each week so they can focus on other activities.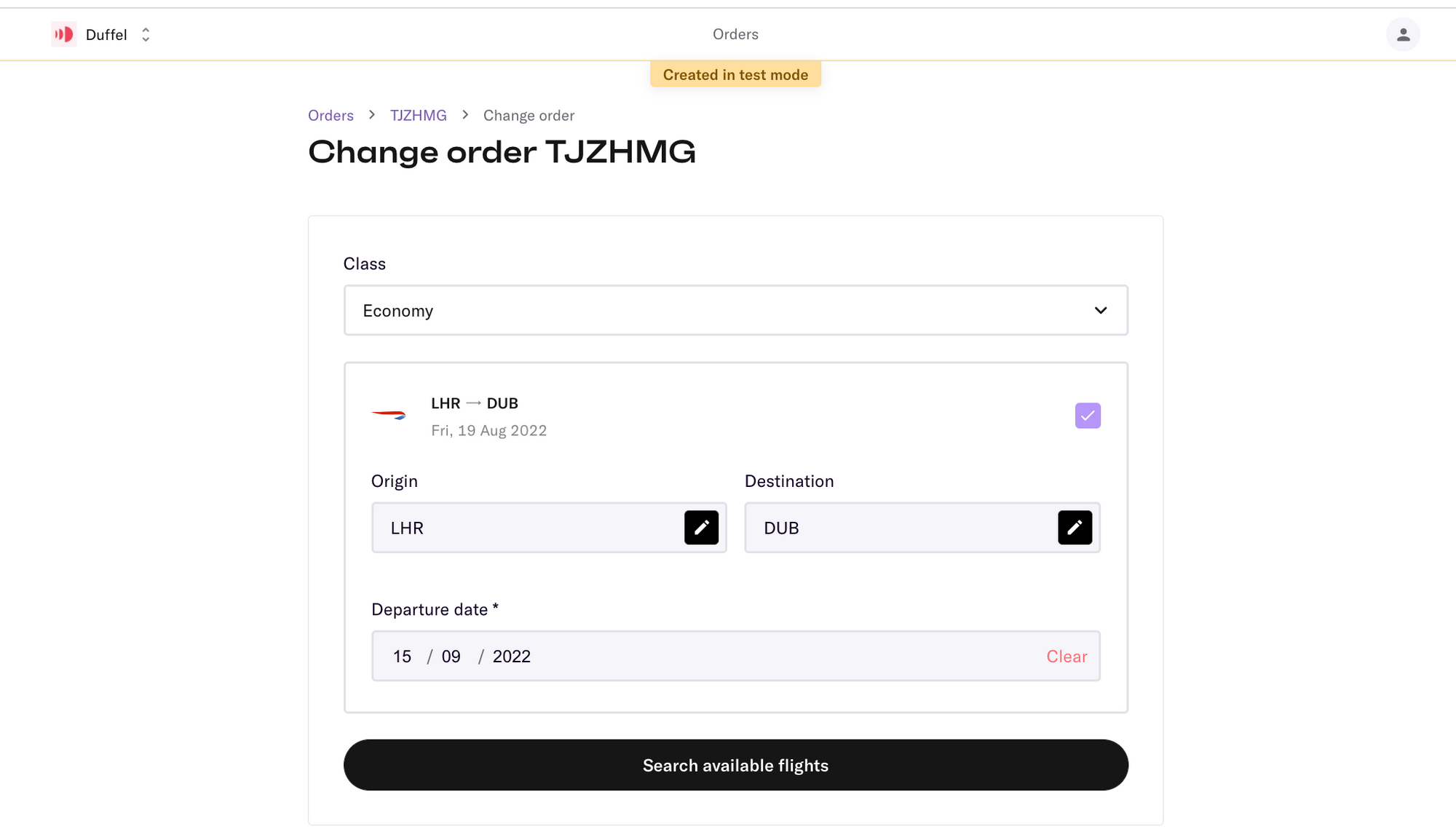 Airline-initiated changes
Imagine an airline changes its planned schedule, an aircraft is grounded by government authorities, or local COVID restrictions cause flights to be moved or cancelled. These airline-initiated changes can't be predicted and your customers need to know their options as soon as possible.
In the past, these unexpected changes would've put extra pressure on travel operations teams to communicate with passengers to let them know and figure out what they would like to do. Now with Duffel Flights API, your customers can manage these changes themselves in just a few clicks to accept a new time or date or accept a refund.
Give your customers the best experience
Duffel has been built to make it easy for travel sellers like you to give your customers great experiences. Once you integrate with the Duffel Flights API once, you'll have access to 300+ airlines including 30+ Direct Connects and new airlines added every month. You and your customers will enjoy capabilities not found on traditional flight platforms: self-serve changes and cancellations, seat selection, dynamic and lower pricing, and much more.
If you're already using the Duffel Flights API, you can read the developer documentation and enable British Airways to start building these capabilities into great customer experiences today.