I'm beyond excited to announce Duffel Stays – the fastest way to start selling accommodation. It's a huge step forward in our mission to make travel effortless, moving beyond tackling the complexity of selling flights to selling travel.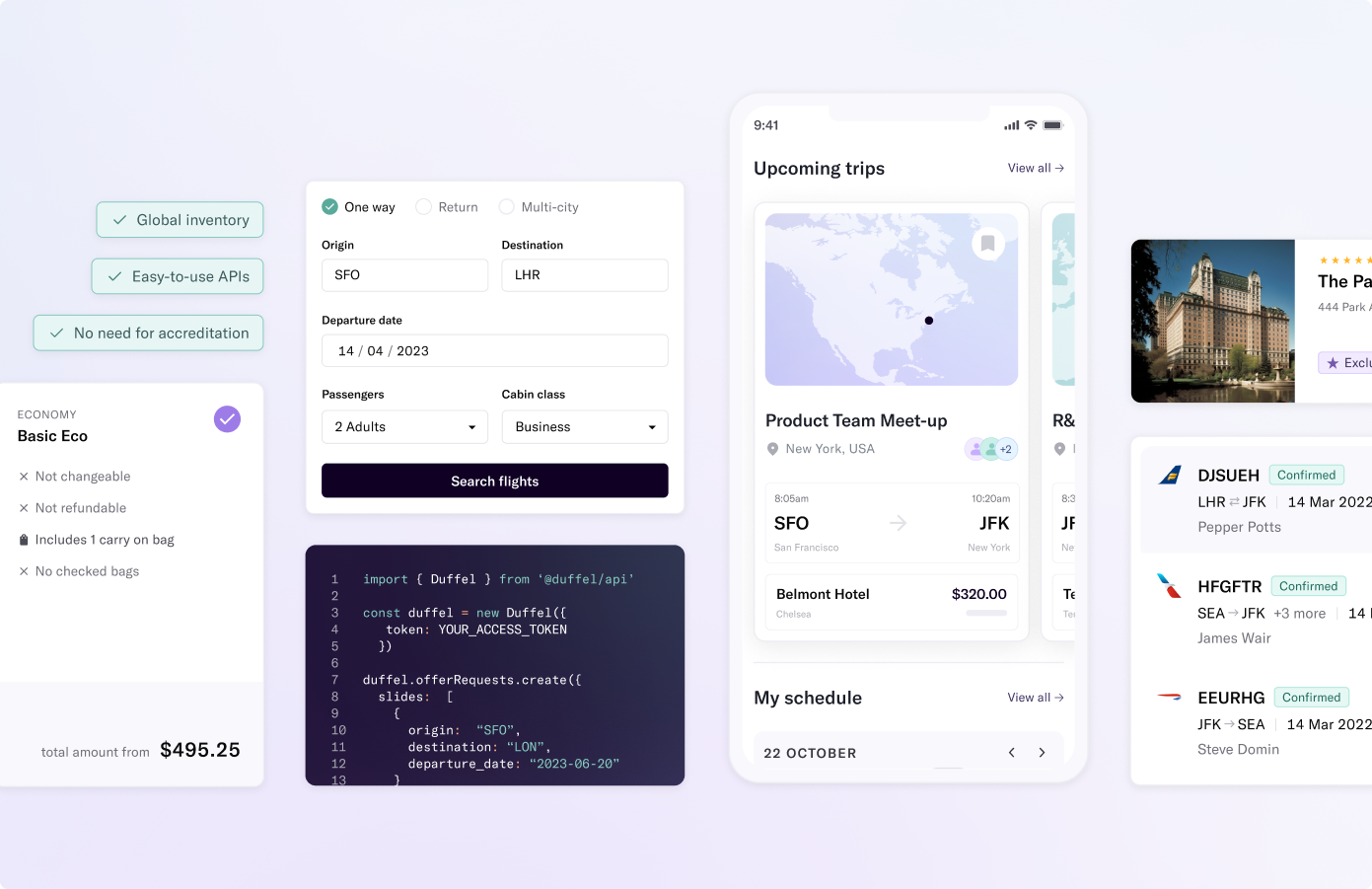 Today, we serve a diverse range of customers, including challenger banks, spend management platforms and online travel agencies. We're excited at the possibilities that Stays unlocks for our customers.
Until now, 1970s-era technology, as well as prohibitively steep volume and capital requirements, have created barriers preventing new players from entering the travel market. In the same way that Stripe, Twilio, and Shopify have rebuilt the infrastructure for payments, communications, and e-commerce, Duffel is on a mission to rebuild the infrastructure of travel by removing these barriers, unlocking massive economic opportunities for our customers. We believe that the right technology makes it possible for businesses to focus on innovation, which enables whole industries to flourish and leap forward in previously unthinkable ways.
In 2019, we set our sights on removing the complexity of selling flights, giving all customers access to the top airlines and best fares, without having to understand the complexities and nuances of the industry. We are delivering on this promise. Travel does not stop the moment you get off the plane, though. Our customers have long asked us to help them with the same challenges they face in accommodation – the lengthy integration times, drawn-out commercial negotiations, and having to manage multiple suppliers.
Now, we're thrilled to take the next step in transforming the travel industry with Duffel Stays. From today, travel sellers can offer a world-class travel booking experience to their customers, unlocking instant access to leading hotel providers with one fast and easy integration.
We're confident that you'll find Stays is the best way to sell accommodation, and we're proud to add it to our portfolio of industry-redefining products.
We haven't yet reached our destination. To rebuild travel infrastructure and provide a five-star experience, we have lots more planned. Stay tuned to see what we're up to next, as we continue to bring much-needed innovation and efficiency to the travel industry.