Life at Duffel
Duffel's COVID Journey: Where we are now

What a strange year 2020 has been. The last thing any of us expected going into Q2 was that we would enter a global pandemic. At the beginning of March, we were getting ready for an exciting office move, planning an away day at a countryside vineyard and a company trip abroad!
However COVID-19 intervened and we had to quickly decide how to move forward in the new situation while keeping the business and, most importantly our team, safe. We want to share a little insight into our company COVID journey so far and where we are at now.
How we planned our response
In the weeks leading up to the UK lockdown we were monitoring the situation closely, following government advice. As the days went on, it became clear that we were going to need to get a plan in place for the inevitable, while keeping the wellbeing of our Duffel team and the general public at the front of our minds.
After looking at many different options, we decided on a 2 Stage Plan.
Our stage one response included precautions such as putting international travel on hold, optional work from home for all employees and extra hygiene measures taken in the office.
Our stage two response meant mandatory remote working, all business travel cancelled until further notice and all interviews to be held via zoom. The plan was to action this once the COVID cases in London hit 100. Which meant we were fully remote from the 16th March, before lockdown in the UK was official.
As this was such a new and unique situation, we decided to err on the side of caution, and take things week by week. In hindsight from an admin perspective, going remote a week before lockdown was great as this meant it was much easier to shut up the office before the mad rush when lockdown was officially announced.
The move to remote working
We had no idea what to expect at the start of lockdown, but we did know that we wanted to keep the wellbeing of the team as our top priority amid such uncertain times. At the time, we were a team of 19 and like everyone else, we had to adapt to remote working fast to enable everyone to carry on with their job with as little disruption as possible. We had flexible working setups prior to COVID, but had never gone "fully remote" before. We initially couriered out chairs and screens but also wanted to make sure that everyone was as comfortable as possible working remotely and offered support with a home office stipend.
It was really important to us that although we'd be physically apart we retained the strength, team spirit and support of the Duffel team that we are so proud of.
Business as usual
We were in a fortunate position where we could continue to hire, so we adapted our interview process to suit a remote setting. We also worked hard to ensure we created an onboarding experience that would make our new hires feel welcomed, supported and part of the team from day one. We made sure we kept our welcome breakfasts in their first week, gave new joiners an opportunity to have intro calls with the entire team and gave each new joiner two buddies during their onboarding at Duffel. We also created documentation detailing what life at Duffel looks like in a remote setting.
We sent out remote working surveys to create a space for everyone to voice any concerns or suggestions regarding remote working life, and for us to tune in and gauge how the team were feeling which can be trickier in a remote environment.
Wellbeing
Pre - COVID, we were trialing Spill, which offers mental health support through Slack, but were of course very aware that mental health was a growing concern across the country during lockdown and so we accelerated implementing this for the whole team to access. Spill offers everything from reading material to a course of 1:1 therapy sessions at the click of a button, and it was important to us that we made this available to each new joiner from day one.
We created a #fitties channel on Slack, and ever since our first week working remotely, we have been taking it in turns to lead a Zoom exercise class. This has been a great way to keep active whilst contributing to team bonding through a shared hatred of press ups....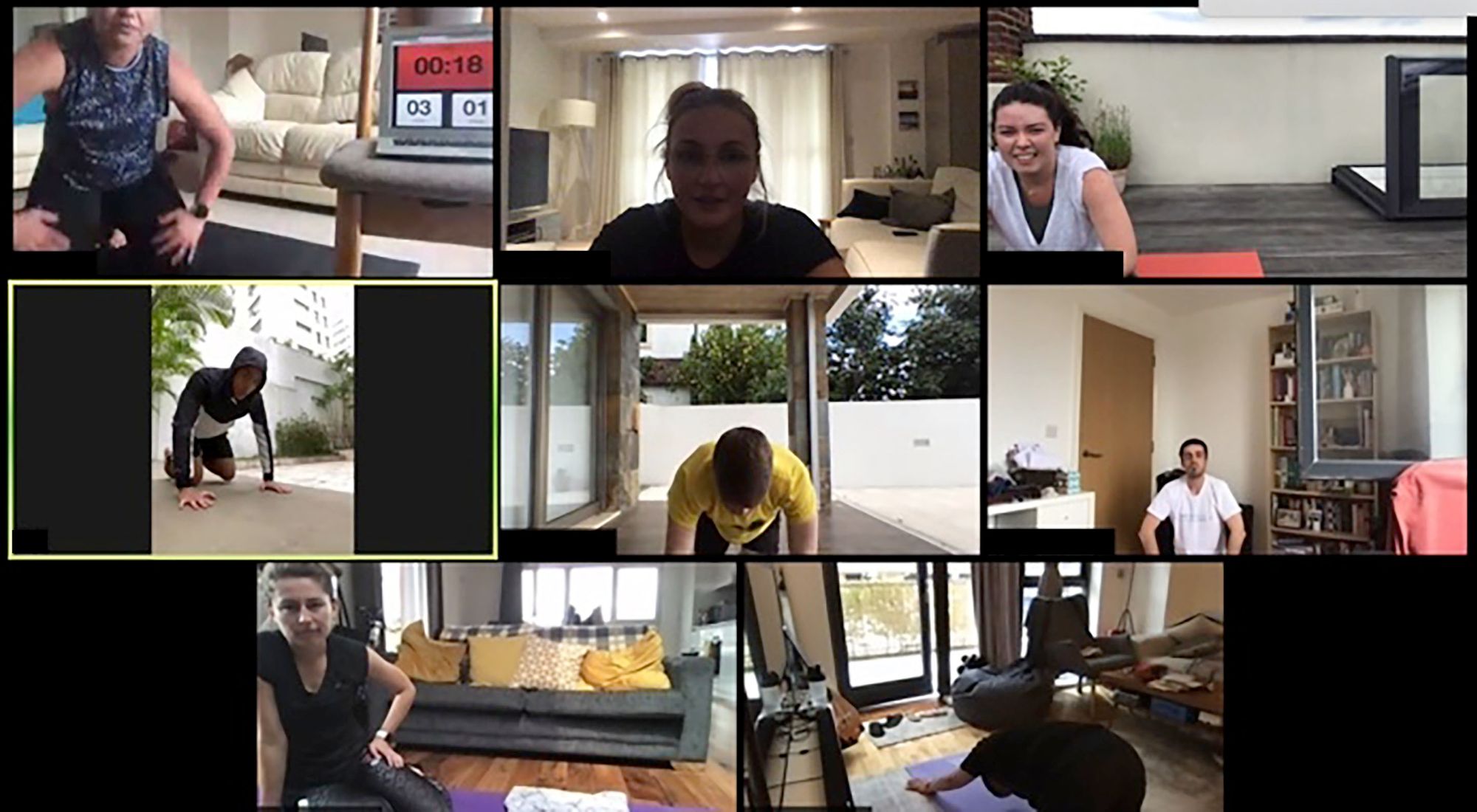 Although taking time off during lockdown did not seem very appealing, it was encouraged (but not enforced) and the topic of work/life balance was spoken about more and more. Adjusting to remote working and separating work and home life isn't something that comes naturally to everyone, so we tried to make sure managers were checking in with their teams and making sure they took time they needed for themselves during the working day.
Retaining our Duffel spirit
Inevitably, going remote comes with its challenges for everyone, and from a People team perspective, it was important for us to address the lack of in-person interactions, and how that can impact work relationships.
Each team has adapted in a way that works for them, scheduling more team check-ins and 1:1s. This will be different for each team, and can vary from a team check in every day to a bi-weekly catch-up, but over time each team has learnt a pattern that suits them.
We carried on with our monthly socials (albeit virtually), but along with the rest of the world, we quickly got tired of the standard Zoom quiz, so we had to look for new ideas: cooking classes, virtual bingo and cocktail classes to name a few.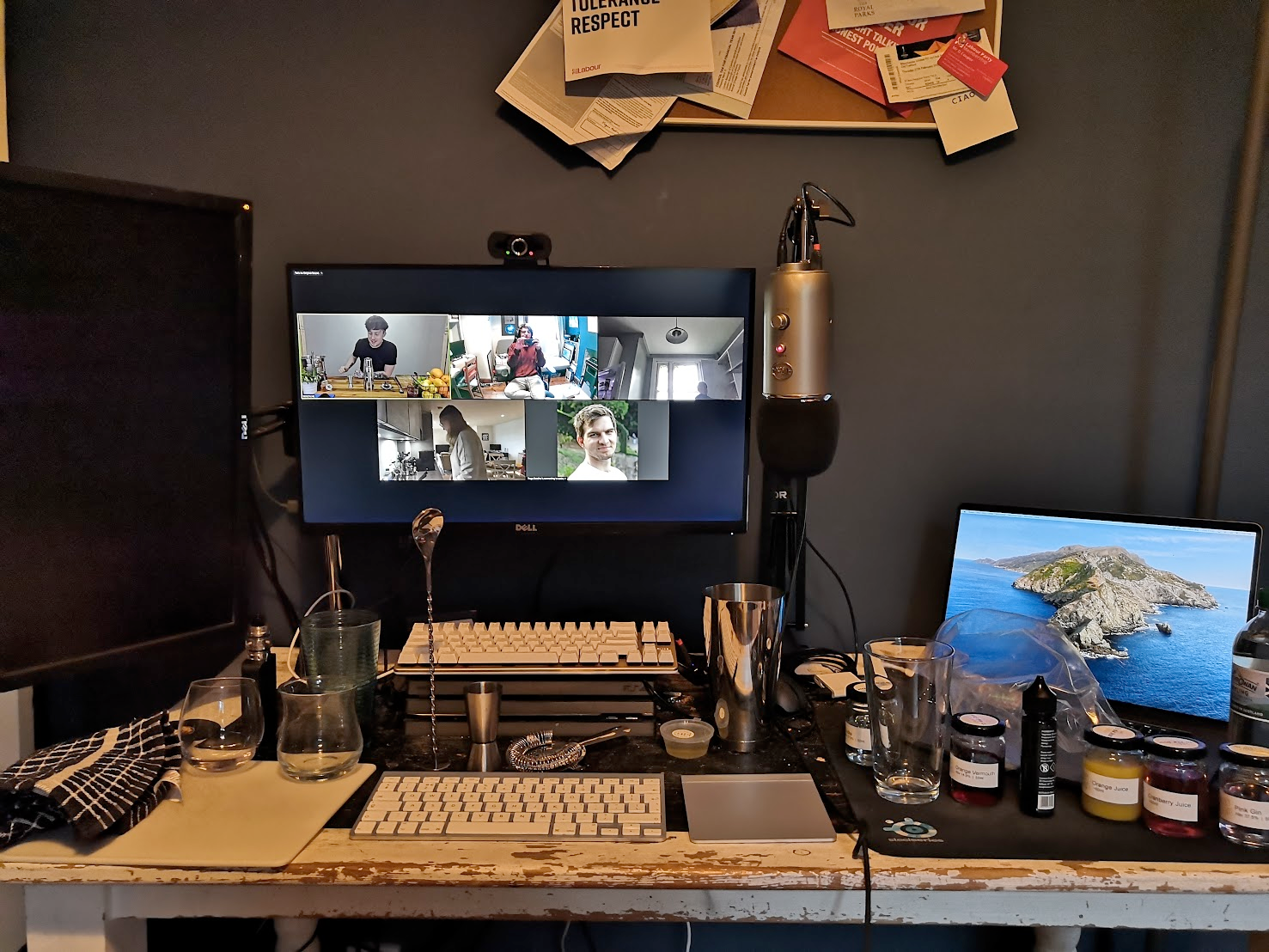 We deliberately started to stimulate more remote conversations, introducing:
Slack photo challenges; a popular challenge was 'show us your first profile picture on your social media' (highly recommended if you want a good laugh!)
Lunch & afternoon daily coffee chats
Roulette pairings via Donut , connecting members of the team weekly for virtual catch ups
Monthly discussion groups where we group together small teams and give them a topic to chat about, such as the highs and lows of lockdown life and how to achieve a healthy work/life balance
Perhaps the most popular of all was the recent launch of our Duffel Houses (think Harry Potter vibes but with a Duffel twist!).
This has been great for keeping strong work relationships, as well as creating some fun competitiveness within the company.

All in all, we feel super proud of how the team has drawn together during these strange months.
If this pandemic has taught us anything, it is to look out for one another and we really feel that is at the heart of everything we do at Duffel. For now it's business as usual, remaining remote first until it is safe to return to the office - and we are super excited to see what the rest of 2020 will hold.