Emirates have announced the new "Emirates Gateway" NDC platform - what does it mean for travel sellers?

Earlier this week, Emirates announced the launch of its new NDC-powered "Emirates Gateway" platform.
In this post, we'll tell you a bit more about Emirates' new connectivity options, why they matter for travel sellers, and how you can get access.
What is the Emirates Gateway?
The Emirates Gateway is a new way for travel sellers to search and book Emirates' flights and ancillaries outside of the traditional global distribution systems (GDSs) like Amadeus, Sabre and Travelport.
It is powered by IATA's New Distribution Capability (NDC) technology standard, which is already used by many major airlines.
What does this mean for travel sellers?
Soon, Emirates will use its NDC platform to "offer custom content and dynamic pricing" and "value-added and differentiated services" according to Emirates' Chief Commercial Officer, Adnan Kazim.
But to begin with, Emirates will distribute the same content through NDC as it distributes the GDSs.
If you get connected to the Emirates Gateway now, you'll be ready for when the airline launches NDC exclusives.
You'll also be in a great position to benefit from the unique offers that other airlines like British Airways, Lufthansa and Singapore Airlines offer through NDC already.
If you're not familiar the carrots and sticks that airlines are using today to drive travel sellers towards NDC, then check out our previous blog post, "Why does NDC matter to my travel business?".
How can I get access to the Emirates Gateway?
As a travel seller, there are three ways to get access to the Emirates Gateway:
Use the Emirates Booking Portal: This browser-based tool will allow you to make and manage NDC bookings - but you'll need to train your staff to use a new tool and only flights and ancillaries from Emirates will be available.
Build a direct integration with the NDC API: If you have your own website or internal tools, you can build an integration with Emirates' NDC API to access their flights and ancillaries. This integration usually takes between 1 and 6 months, and you'll have to build a new integration if you want to connect to other NDC airlines in the future.
Connect through one of Emirates' certified technology partners: By working with a technology partner (sometimes known as an "aggregator"), you can access NDC content from many airlines through one API integration or booking tool. Today, Emirates have three certified technology partners — including Duffel.
You can learn more about these options on the Emirates Partners website.
How do I get started with Duffel?
With Duffel, you can access NDC content from more than 20 airlines through one single platform.
We give you access to these airlines' best fares and ancillaries, and bring them all together into one universal API. Our modern JSON API and great documentation means that your integration takes just days.
We also offer a universal agent UI for travel sellers who want something off the shelf and don't want to build an API integration.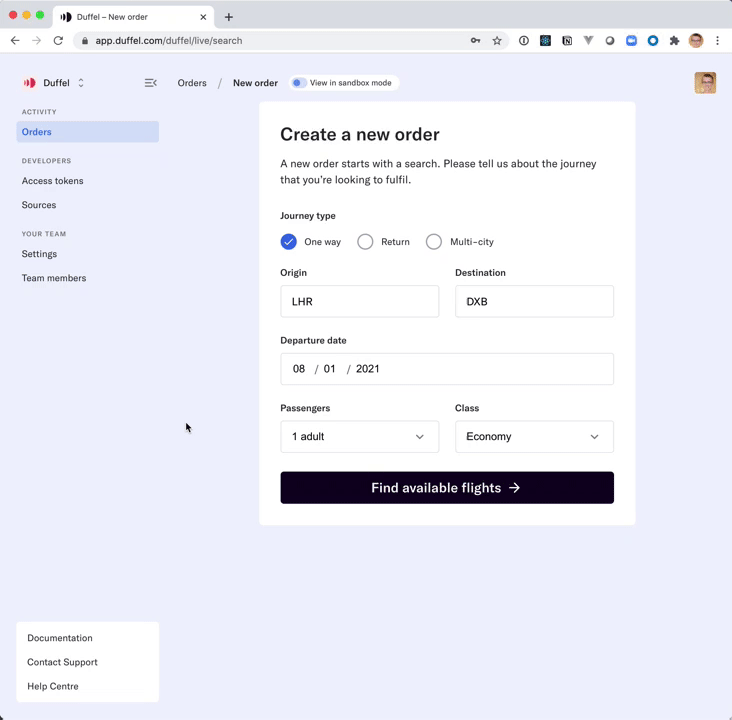 To get started, just sign up on the Duffel website. It takes about 1 minute.
Once you've completed the simple API integration, you can turn on new airlines in one click — so, for example, you can start with Emirates, and then turn on Singapore Airlines when you're ready. You don't even need to be an IATA-accredited travel agent.
---
Since the time of publishing Emirates have announced they will offer differentiated pricing and exclusive promotions on top of their initial offering through Emirates Gateway, starting from 01 July 2021. A surcharge on all bookings made via Global Distribution Systems (GDS) will also kick in on the same day ranging between USD 14 and 25 per ticket.