Product Updates
Offer and Order Conditions now live on Duffel

At Duffel, we're thinking every day about how we can empower travel sellers to build the best experience for their customers. Data is one of the ingredients of the secret sauce. With our new support for offer and order conditions, we're giving our sellers information to help them serve their customers better.
Today more than ever, travellers care about flexibility when booking flights.
The ability to change or cancel at the last minute has always been a priority for business travellers - they've traditionally hunted for more expensive but less restrictive fares that allow them to change their plans at a moment's notice.
Since the coronavirus pandemic hit back at the start of 2020, flexibility has also become a top priority on leisure travellers' wish-lists. With countries imposing lockdowns, travel bans, and quarantines, often without much warning, it's become more vital than ever to know if you can reschedule your trip without losing your money or paying hefty fees. Airlines have responded with generous new "book with confidence" policies.
People interested in buying flights are reluctant to book if they can't be sure that they'll be able to switch dates if there are a new lockdown or travel restrictions. If you're selling flights, you need to be able to communicate these airline policies to your customers, so they know what will happen if they want to change or cancel their trip. For that, you need high-quality data". That's why we've launched a new feature in the Duffel API called offer and order conditions to quickly and easily solve this problem for you. This new functionality is live for British Airways today and will be coming soon to more airlines.
How it works
When you search for flights through Duffel, you get back a series of offers. Each offer represents a particular set of flights (known as "segments") that you can book for a specific price: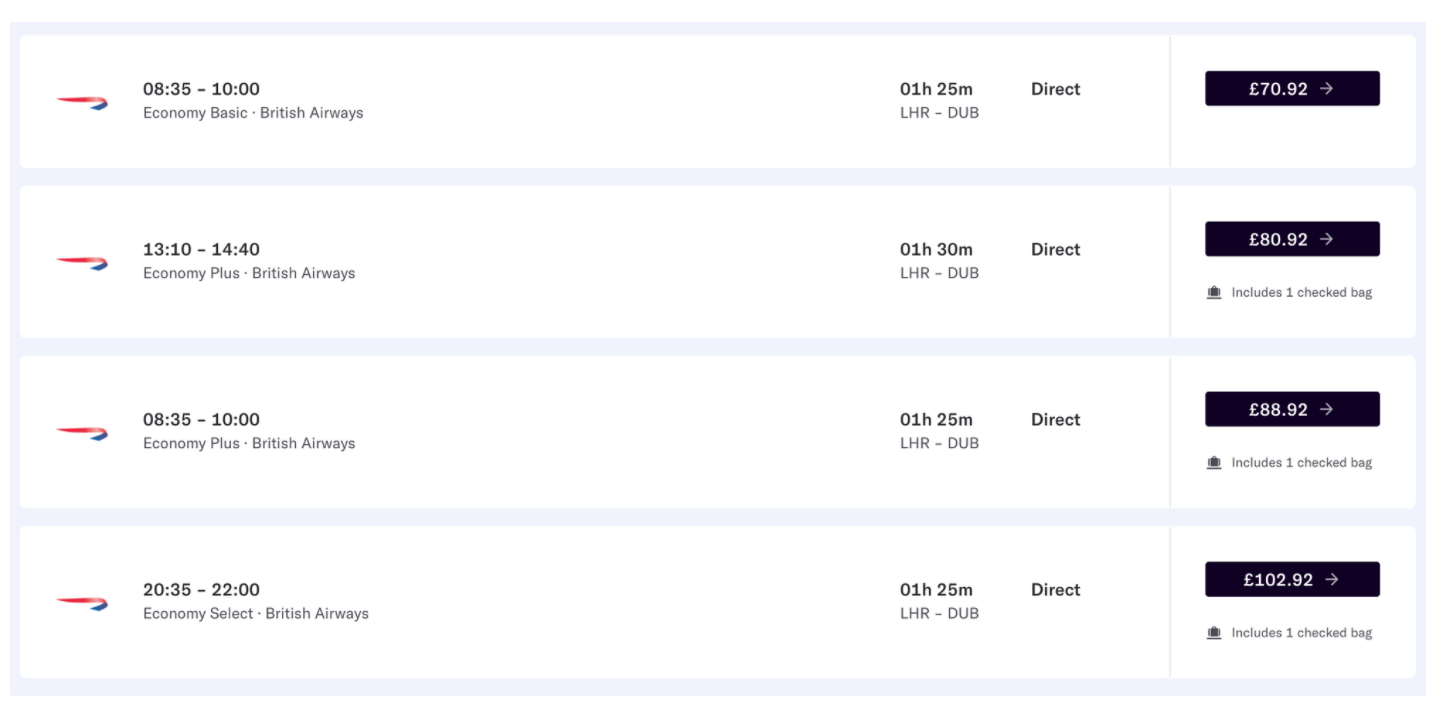 You might get multiple offers for the same segments with different prices because airlines often offer different "fare brands" with various features and benefits. For example, there might be a low-price "basic" brand that is fixed and a more expensive "flex" option that can be changed free of charge:

On offers in our API, we'll now return offer and order conditions. It will tell you if you can change or refund those flights after booking, and if so, what fee (if any) will apply:

This data even considers airlines' special COVID policies, so you can be sure you're presenting the correct information to your customers.
We'll also return the same information in the API after you've created an order - that is, made a booking - so you can present users with their options wherever they are in your customer journey.
In most flights APIs, this kind of information about flight flexibility is an optional, paid extra. We don't think this is good enough - especially for a post-pandemic world. Offer and order conditions are entirely free of charge if you're using Duffel.
This new feature is live today for British Airways. We'll be launching this feature for more airlines over the coming months. If there's an airline that is particularly important to you, please do get in touch.
How to Get Started
Getting started with offer and order conditions is easy. It'll take just a few small tweaks to your Duffel API integration. Just take a look at the "conditions" attribute on offers and orders in the API.
Sign up for Duffel here!