If you've ever needed to change your flights, you'll be familiar with the endless stream of questions that it brings: Am I allowed to change at all? If I am, what is it going to cost me? If I decided to cancel, will I get anything back? If I wait, will things get cheaper, or will prices jump up?

The stress continues when you actually want to take action: Will I be able to make changes online or via an app? Will I be forced into an hours-long queue to speak to a call centre?

Overall, making changes to your flight booking can get pretty messy - and we haven't even mentioned schedule changes or disruptions coming from the airline yet.

Now imagine that you're selling flights and you need to give your customers a great experience around this high-tension and high-stakes part of the travel experience. That can seem quite overwhelming.

Managing travel operations is challenging but it doesn't have to be. Let's uncover what it takes to run an effective Travel Ops team and how this important function can be successfully managed.
What is travel operations?
If you've been following our "5 Misconceptions for starting a travel business" series, you're already aware of how complicated the flight industry is. Without industry experience, managing flight reservations and customer inquiries can be a challenge.
To sell flights, you'll need a travel operations expert - or more likely a team of experts - to translate airline jargon into what customers can understand, apply complex airline policies to even more complex real-life situations and navigate highly technical airline tools.
A Travel Operations ("Travel Ops") team is there to assist customers at any point after a booking has been made. They handle customer-requested changes, schedule changes from airlines, cancellations, refunds and errors - plus a range of other ad-hoc requests. Travel Ops can support customers in a variety of ways. They can provide FAQs, create Help Centres, manage support tools like Zendesk, handle responses via chat or email, and more.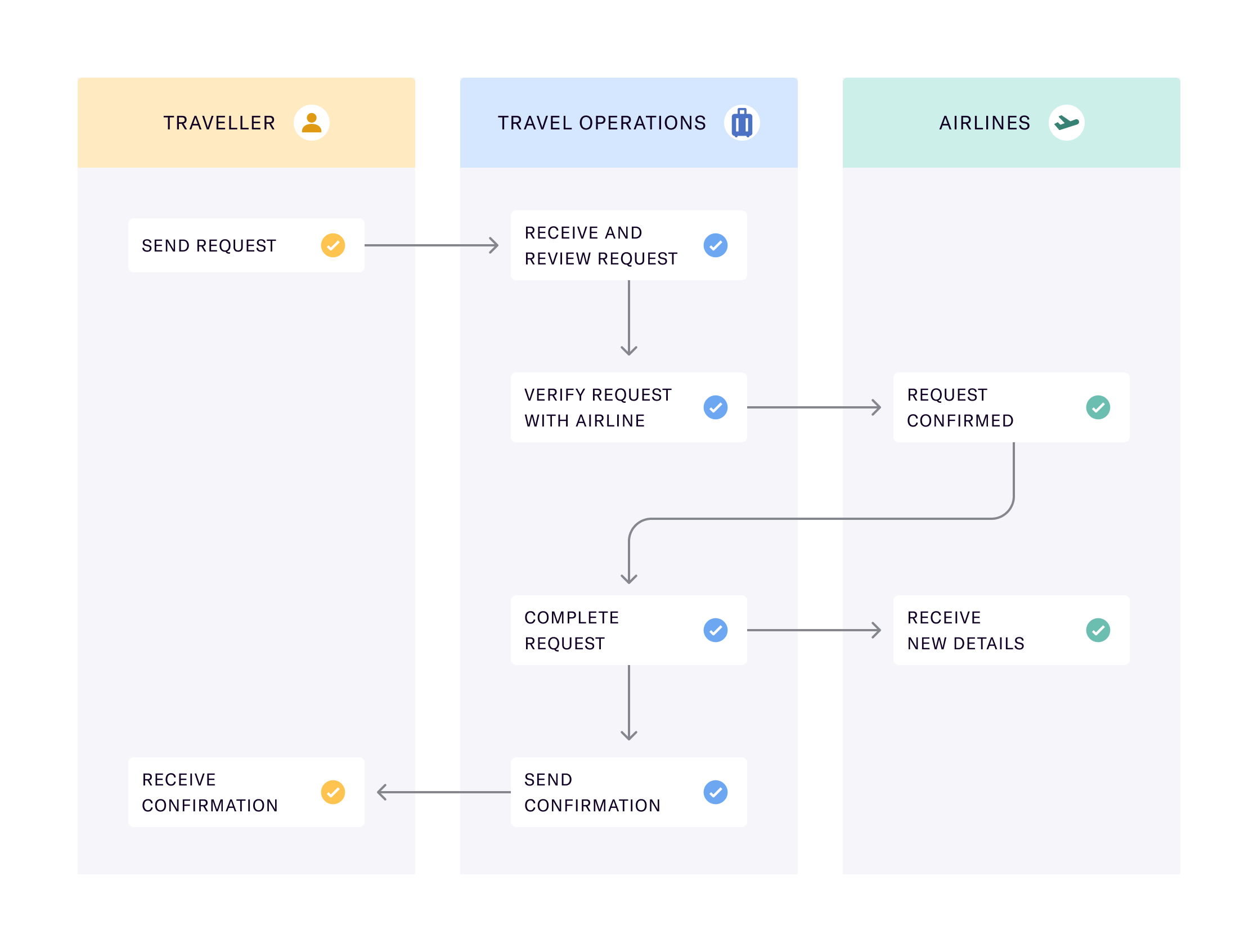 Travel Ops teams have in-depth industry knowledge and know the ins and outs of the flight business including airline processes, schedule change policies and industry acronyms. These individuals may have worked at travel agencies, travel management companies, tour operators, airlines, GDSs, or other intermediaries like Farelogix. Potential job titles include: Travel Consultant, Travel Specialist, Travel Operations Manager, Travel Support Consultant, Quality Assurance Specialist, or Travel and Customer Service Agent.
As an exercise, we've outlined some "inside knowledge" examples below. How many are you familiar with?
SPRK
BSP
APIS (not Application Programming Interfaces - APIs)
Fare class (Hint: J)
Status code (Hint: HK)
Airline code (Hint: LH)
PNR
SSR
OSI remarks
Note: We've shared a glossary at the end of the article for those interested in learning more.

Responsibility and Ownership
Travel operations is an important part of starting a travel business and you'll need to know what areas you are responsible for compared to an airline or GDS or technology partner.
Airlines
Airlines schedule their flights, set their fares, and then distribute them to travel sellers - whether that's through a direct connection such as New Distribution Capability (NDC) or a Global Distribution System (GDS).
Airlines set the fare rules which can include whether the ticket is changeable, refundable, transferable, etc. The airline also determines what fees are applicable, when they apply, and any other conditions. They are responsible for notifying of any changes, including cancellations, to their schedules. They set policies for what your options are after a schedule change.
Airlines have a Central Reservation System (CRS) that keeps track of their inventory and bookings. When you "book a flight", there are actually two things happening under the hood: booking and ticketing. Booking is essentially just holding a seat for your chosen flight. At this point, a booking reference (sometimes known as a PNR or record locator) is generated. But you're not actually ready to fly yet. Ticketing still needs to happen. Ticketing is when your payment is collected, at which time a ticket is then issued, locking in your travel plans and giving you the "right to fly".
Travel sellers
The "easy" bit is enabling your customers to make their initial booking, whether that's in person, over the phone, online or in an app. The hard bit is managing what comes next.
Travel sellers need to build and maintain a database to house and track information tied to an order. For example, if you need to check a booking, answer a question related to the order, or make a change, you need to find the relevant information such as order creation date, airline booking reference, airline ticket numbers, passenger details, payment details and more.
You also have to handle schedule changes when they occur, including communication of the change with the passenger in a timely manner.
As a travel seller, you would be responsible for managing orders and any passenger requests either pre-, during or post-booking. These could include changes, cancellations, unused tickets, and updates such as meal requests or loyalty programme information. You need to be able to accept these requests, track them, collect payment if required, take action and update the booking.
Since airlines set fare rules, you need to abide by them along with any other terms & conditions and policies provided by the airline. Travel sellers manage payments, refunds, voids and remittances with the airlines as well.
What size of team do I need to manage these responsibilities?
There isn't a simple formula to follow to work out the right size for your Travel Ops team - you want to provide the right level of support, but not have the overhead of too many employees.
True workforce management takes a lot of data to do correctly as you have to evaluate metrics like average handle time (AHT), ticketing reject rates, other reject rates and more. If you have large volumes, it may even require you to hire a Workforce Management Analyst to keep up with these calculations and to ensure optimum efficiency.
The minimum number of agents needed to support a 24/7 operation is 6 agents (assuming 2 days off per week for each agent). Some companies may have fewer consultants if they don't offer 24/7 support and some may have more consultants available to manage bespoke requests or provide a higher quality customer experience.


A Day in the Life of Travel Ops
Real-life examples can help unpack a problem. We'll take you through a day in the life of our Travel Ops guru Pete to break down the steps of 3 common kinds of requests that Duffel manages for its travel sellers on a regular basis.
Requesting a vegan meal for a passenger
Providing a refund quote and then processing a cancellation
Informing the customer and taking action after an airline-initiated change
1.  Requesting a vegan meal for a passenger
Often, a traveller will get in touch asking to choose their meal for their flight. In order to do this, we have to record their preference on the airline reservation.
In an airline's reservation system, all of the details about a booking are stored in the Passenger Name Record (PNR).
What is a Passenger NPNR?
A PNR is a special kind of database that stores all of the details about a booking, including the traveller's personal details and their travel plans. It includes:
First and last name
Itinerary - airline, code, booking class, date, time, segments
Ticket - segments, fare details - base + taxes and fees
Contact information - phone number, email address
History - what changes were made by whom
A unique reference is assigned to each booking after it is created. It may appear under different names — a record locator, booking reference, reservation code, or just PNR. The code usually contains 6 characters — letters or numbers, depending on the system used to make a booking. This unique booking reference is shared and helps the passenger manage their booking and also check-in online.
Day-in-the-life example: Submit a special service request for a vegan meal
Pete receives a request from a customer for a vegan meal on their upcoming flight to Orlando, Florida.
In order to handle the request, Pete starts by looking up the Special Service Request (SSR) code for a vegan meal. In this case it's VGML: non-dairy vegetarian meal (no milk or egg products).
From here, Pete opens the passenger's PNR. He goes to edit special services. He selects the passenger name to associate it with the SSR. He then selects the segments associated with the SSR as well - so he will select Orlando, Florida.
Next, he chooses the SSR type which can include: MealCode, Wheelchair, Miscellaneous, Seat Request. He selects MealCode and then can enter the SSR code: VGML.
Pete chooses not to add any additional information in the free form box. He now clicks "Add" to add the SSR to the PNR. After it is completed and reviewed, he clicks "Save".
The SSR request should now be visible on the customer's PNR. Because SSRs require action from the airline, there is a status code applied to the SSR to indicate whether the request has been confirmed.
Common status codes include:
NN - SSR has been requested
PN - SSR is pending
UN - Airline is unable to fulfil the SSR
HK - SSR has been confirmed
Once the status code is updated to HK, Pete then replies to the customer to let them know that their vegan meal has been requested.

With Duffel, you'll get access to our Travel Ops team from Day 1. In the example above, Duffel could help with answering questions related to customer requests, confirming special service requests with the airlines, or providing a document that outlines the requests available and what the process looks like. By eliminating the complexity and providing clear, accurate information, you can confidently fulfil your customers requests and provide the top-tier support that is essential in today's environment.
2. Providing a refund quote and then processing a cancellation
When a customer gets in touch to cancel their flight, we have to check if it is cancellable and then provide a quote for how much money the passenger can expect to get back. If they want to go ahead, we then cancel the booking and refund the ticket(s).
When you're doing this - as with most airline actions involving bookings - the biggest danger you have to watch out for is accidentally not following the airline's policies and being hit with an ADM - an Agency Debit Memo.

What is an Agency Debit Memo (ADM)?
An ADM is a fine from the airline for not following the airline's policies. Any travel agency will receive ADMs - it's inevitable! - but the goal of Travel Ops is to limit them to as few as possible. These fines are against the agency for not following airline requirements, and are not pushed onto the passenger.
Some of the more common causes of ADMs include:
Refunding a ticket that is non-refundable
Changing ticket that was non-changeable
Charging an incorrect change fee
Charging an incorrect fare at time of exchange
Charging incorrect tax on a ticket (as it differs per country)
Incorrectly refunding full tax amount when only partial tax refund was applicable as some taxes were non-refundable
Not removing inactive segments the PNR at least 24 hours prior to the scheduled departure of each flight segment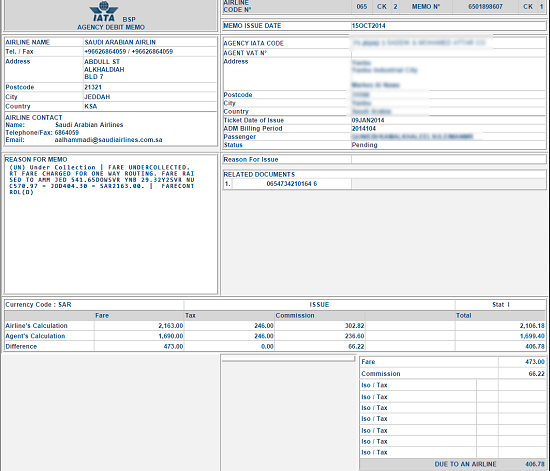 Day-in-the-life example: Confirm cancellation rules for an upcoming BA flight
Pete receives an incoming question through Zendesk from a customer asking if they will receive a refund if they cancel an upcoming booking for a British Airways flight.
Pete pulls up the booking details to check when it was booked and when it is departing.
Now that we have the booking information, Pete opens up the booking's fare rules to check the cancellation policies and how refunds or vouchers are provided.
We need to confirm what would be available based on the number of days until the departing flight as some airlines may provide a refund, or a voucher, or may not provide any form of remuneration if the cancellation is too close to the departure date.
Based on the booking details, Pete verifies that the customer would receive a voucher and not a refund. To provide the most accurate information, we also need to validate how long the voucher is applicable for. In this case, Pete sees that it will be valid for 24 months.
Pete can now go back to the customer and provide the information to see whether they would still like to move forward with the cancellation. The customer confirms and Pete offers to help with the cancellation process.
If Pete had offered the refund right away, we would have received an ADM since a voucher was the correct option for the cancellation. Since we verified the timeframe, type of remuneration, and validity period, we will not get an ADM for this cancellation.
As a merchant, you would have to manage these requests (and more) on behalf of your customers and ensure you are providing accurate information and timely support. By partnering with Duffel, we provide our expertise and support to handle customer requests, whether cancellations, refunds, changes or any other issues or questions that may arise. Our Help Centre is available to provide information to common questions so you can access support independently as well.
We invest in automation to try to cut down these manual processes which cost money and slow down the customer experience. For example, with the Duffel Flights API, it is easier for your customers to cancel a booking and get a timely refund without you having to bounce between airlines and agents. We're also building automated changes, which will be available through the API and through the dashboard, to make updating customers bookings even easier. In the instances where this isn't available in our API today, our dedicated customer support team can assist in making those amendments to your customer's booking. Join Duffel today >
3. Informing the customer and taking action after an airline-initiated change
An airline-initiated change (also known in some cases as involuntary change) is when a change is made by the airline - so the passenger did not have a choice in the change.
After an airline publishes their flight schedule and accepts bookings, they may make adjustments to accommodate changes to aircraft and new routes. In these instances, a flight you booked earlier may get cancelled or have its departure or arrival time adjusted.
Alongside these "planned changes", there can be last-minute changes in the few days before the flight, for example, due to bad weather, maintenance issues or staffing gaps.
Airline-initiated changes can happen at any time across any airline. Without proper monitoring for these changes, you may not notify the passenger when needed and they may end up in the wrong place at the wrong time!
Day-in-the-life example: Air Caraïbes cancels flight TX516 from Paris to Martinique
At Duffel, we keep track of airline-initiated changes and notify our customers. In this example, we will look at a booking we made through a GDS and show how we receive notification of a flight cancellation.
First, Pete opens the tool and views a list of "queues" where changed bookings go.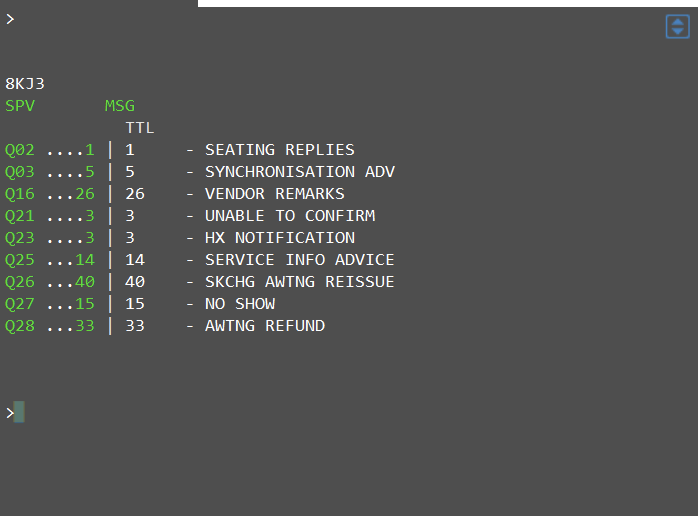 Next, to confirm which flights have been cancelled, Pete takes a look at the list of bookings in the "Unable to Confirm" queue.
There are six items in the queue - so six bookings where one or more flights have been cancelled by the airline.
From here, Pete picks the first booking to look at the changes to that specific booking.
In that booking, we can see in the vendor remarks that the cancellation was due to a schedule change.
Looking at the list of flights at the top, we can see a flight's marked UN, TK and HK. What does this mean? HK means everything is fine - the passenger is booked on the flight. UN means that the flight is no longer operating, and TK flags the passenger's new flight details. In this case, the airline has provided a suggested alternative - the flight marked TK - but often it is left up to the travel agent to work out what to do.
Let's assume that the passenger isn't happy with the airline's suggested flight. Pete will now re-populate the routes and fares to offer an alternative. For this step, there is a lot of knowledge of airline policies required to know what is allowed and what the valid options might be.
After Pete has found a valid alternative, he contacts the customer to advise them of the change and let them know the options available for them to communicate to their passenger.
Pete will include the contact information, order number, airline booking locator for the customer to easily reference the booking. He will also copy and paste the changes so they know what has been changed. For additional clarity, he will also mention in writing that it has been cancelled as the details aren't always straight-forward.
The customer can then share that information with their passenger and confirm acceptance of the new flight. Once confirmed, depending on the customer and their IATA/ARC accreditation, Pete will issue the new ticket.
This process is followed for every airline and every flight change. With the pandemic, the volume of airline-initiated changes has increased making the management and communication of these changes a top priority.
Without Duffel, you would be responsible for the end-to-end flow, but by integrating our Flights API, you automatically would have Pete (and our team!) available as support to handle these types of changes. We would follow the process above, communicate the information, and answer questions or provide advice on solutions as these changes occur. Without the stress of missing a change or communicating the wrong information, you can focus more on providing an even greater customer experience.

5 misconceptions to starting a travel business in 2022

It can be challenging to run an effective Travel Ops team, but with Duffel, you can focus on building your business instead. We provide the in-depth knowledge, expertise, and support you need while eliminating some of the back and forth between you, your passengers, and the airlines. Sign up in under 2 minutes >

Follow the series to uncover four more common assumptions new flight sellers have about entering into the travel industry.
Coming soon: how to build a reliable and scalable flights integration faster and how developer experience can be improved.

Explore the series >



Glossary from the exercise above
SPRK
SPRK is a web-based tool used by travel sellers to manage bookings with airlines using Accelya's NDC platform. It's like a GDS - but for one airline. SPRK is generally only available to travel sellers with an IATA number who have an agreement with one or more of Accelya's NDC airlines.
BSP - Billing and Settlement Plan
According to IATA, the BSP is a system is designed to facilitate and standardise the selling, reporting, and remitting procedures between airlines and travel agents, as well as improve financial control and cash flow for BSP Airlines.
APIS - Advance Passenger Information System
Some routes require certain passenger information to be transmitted prior to departure for all flights to and from the country, such as the United States. This information is known as an API.
"The concept of an Advance Passenger Information System (APIS) was first developed to meet the needs of the Customs services of certain States, in order to address problems of drug trafficking and threats to national security, as well as to respond to growing international traffic. The use of such systems has increased worldwide in recent years. While various systems might operate along wholly different lines, the ultimate goal is the same – the authorities obtain necessary information concerning inbound passengers ahead of arrival so that much of the vetting process can be completed in advance." ICAO
Fare class (Hint: J)
Fare classes are the various types of seat categories on a plane, each with its own set of rules and pricing. Fare classes are used across airlines and are identified by one-letter fare codes, although codes may vary depending on the airline.
Common codes include:
F - First Class
J - Business Class
W - Premium Economy
Y - Economy/Coach
Status code (Hint: HK)
A status code indicates the status of a flight segment in the PNR. There are many status codes available and they inform what stage the segment is in - whether it is a schedule change, hold, confirmed by the carrier, waitlist, group booking, etc.
Some examples include:
HK - Hold confirmed
KK - Carrier confirmed
TK - Schedule change: advise passenger of new scheduled times
UN - Unable - no flight
Airline code (Hint: LH)
"IATA airline designators, sometimes called IATA reservation codes, are two-character codes assigned by the International Air Transport Association (IATA) to the world's airlines. IATA airline designators are used to identify an airline for commercial purposes in reservations, timetables, tickets, tariffs, air waybills and in telecommunications." Wikipedia
Some examples are:
AF - Air France
LH - Lufthansa
QF- Qantas
United Airlines - UA
U2 - EasyJet
PNR - Passenger Name Record
A PNR is a special kind of database that stores all of the details about a booking, including the traveller's personal details and their travel plans.
A unique reference is assigned to each booking after it is created. It may appear under different names — a record locator, booking reference, reservation code, or just PNR. The code usually contains 6 characters — letters or numbers, depending on the system used to make a booking. This unique booking reference is shared and helps the passenger manage their booking and also check-in online.
SSR - Special Service Request
A Special Service Request (SSR) is a message sent directly to the airline(s) in the PNR to communicate traveller preferences or service needs. SSRs require an action and response. SSRs can be for preferences or requirements such as meals (e.g. vegan) or special assistance (e.g. wheelchair, unaccompanied minor). Airlines share the reply, which usually is in the form of a status code on the PNR.
OSI remarks - Other Service Information remarks
OSI remarks are messages sent directly to the airline(s) in the PNR that contain special information regarding the traveller. They are informational only and do not require action from the carrier (unlike SSRs). OSIs are used to communicate information which could be that the passenger does not speaking the local language or the passenger has a disability.