Travel Industry
The Future of Travel: Big Ideas for the Next Decade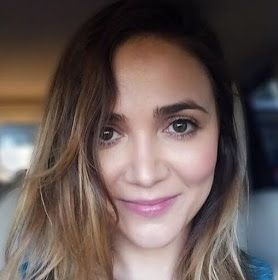 Paige Zeigler
26 January, 2021
While January brings a deluge of headlines predicting the year ahead, optimism for the travel industry in 2021 remains grim in the aftermath of a devastating year. "Aviation is in crisis," the International Air Transport Association (IATA) 2020 Annual Review concluded. "This is the most profound de-connecting of modern society since World War II."
In March, shortly after the World Health Organisation declared Covid-19 a pandemic, Airbnb CEO Brian Chesky recalled in a Wall Street Journal story that he was told by board member and former American Express Co. Chief Executive Kenneth Chenault, "This is going to be bigger than 9/11 and 2008 combined. This is your defining moment as a leader."
History has shown that great companies are built in the shadows of economic peril. Beyond new trends of people staying in Airbnbs within driving distance of home or leveraging no-fly holidays from Byway, there's a lot to look forward to—and remain patiently optimistic about—when considering the future of travel in the decade ahead.
1. The future of travel will be fast
Boom is building supersonic passenger jets that will fly twice as fast as today's commercial planes, meaning you'll be able to get from New York to London in just a few hours and from San Francisco to Tokyo without losing a day.
"...within our lifetimes, we're going to find that the cheapest fare is the fastest fare [and] if that sounds just impossibly too good to believe, remember that the propeller flights to Hawaii don't exist anymore," Boom's founder/CEO Brian Scholl shared in an interview on the Pioneer Podcast with Daniel Gross.
So what will the world look like when flights are faster, more convenient, and more affordable? Can world crises be averted if global leaders can fly faster to meet in person—and still make it home in time for dinner? What if the next generation grows up and the idea of foreign is foreign? Boom's XB-1 development paves the way for the Overture plane which Scholl's says will carry passengers by 2029.
2. The future of travel will be green
"We do hope to have green aviation fuel, but we don't have that today. For a lot of people, their flying would be a significant category of emissions that they're connected to. In my case, it's by far the largest category, so I've gone out and funded green aviation fuel to offset. It's very expensive, but I want to set a good example," Bill Gates shared with Rashida Jones during an episode of their Ask Big Questions podcast.
In the next decade, airlines will spend more time focused on green aviation. Some airlines may even give passengers a chance to pay a surcharge on tickets to support the flight's sustainable aviation fuel. For now, however, "We're at very early days. I mean, one percent of aviation fuel is green today. It will take decades to get that number up," Gates continued.
In the meantime, expect to see a generation committed to climate change who engage in "flight shaming." Gen Z, or Zillennials, the group born between 1996 and 2016 that will overtake Millennials in earnings around 2031, won't tolerate corporate greenwashing. Sustainability will drive Zillennial purchase decisions in the airline and travel industries, according to BofA's August 2020 survey of more than 14,000 Gen Z members.
We'll also see increased investment in emerging carbon removal technologies through programmes like Stripe Climate that help companies direct a fraction of their revenue to emerging carbon removal technologies and more businesses reporting progress toward becoming carbon neutral.
Annual impact reports will even share how many metric tons of carbon offsets and renewable energy credits have been purchased to relieve large footprints from compute infrastructure and executive travel. This trend is already starting in travel with jetBlue becoming the first airline to join The Climate Pledge in December 2020, joining companies like Amazon, Mercedes-Benz, and Verizon in pledging to be net-zero carbon by 2040—a decade ahead of the Paris Agreement's goal of 2050.
3. The future of travel will be powered by social maps and augmented reality (AR)
Try Snap Map now: https://map.snapchat.com/. Type the name of a favourite city and discover what's happening. Proving no one is too old for it, you don't even need the Snapchat app to be one of the 200 million people who touch the map every month.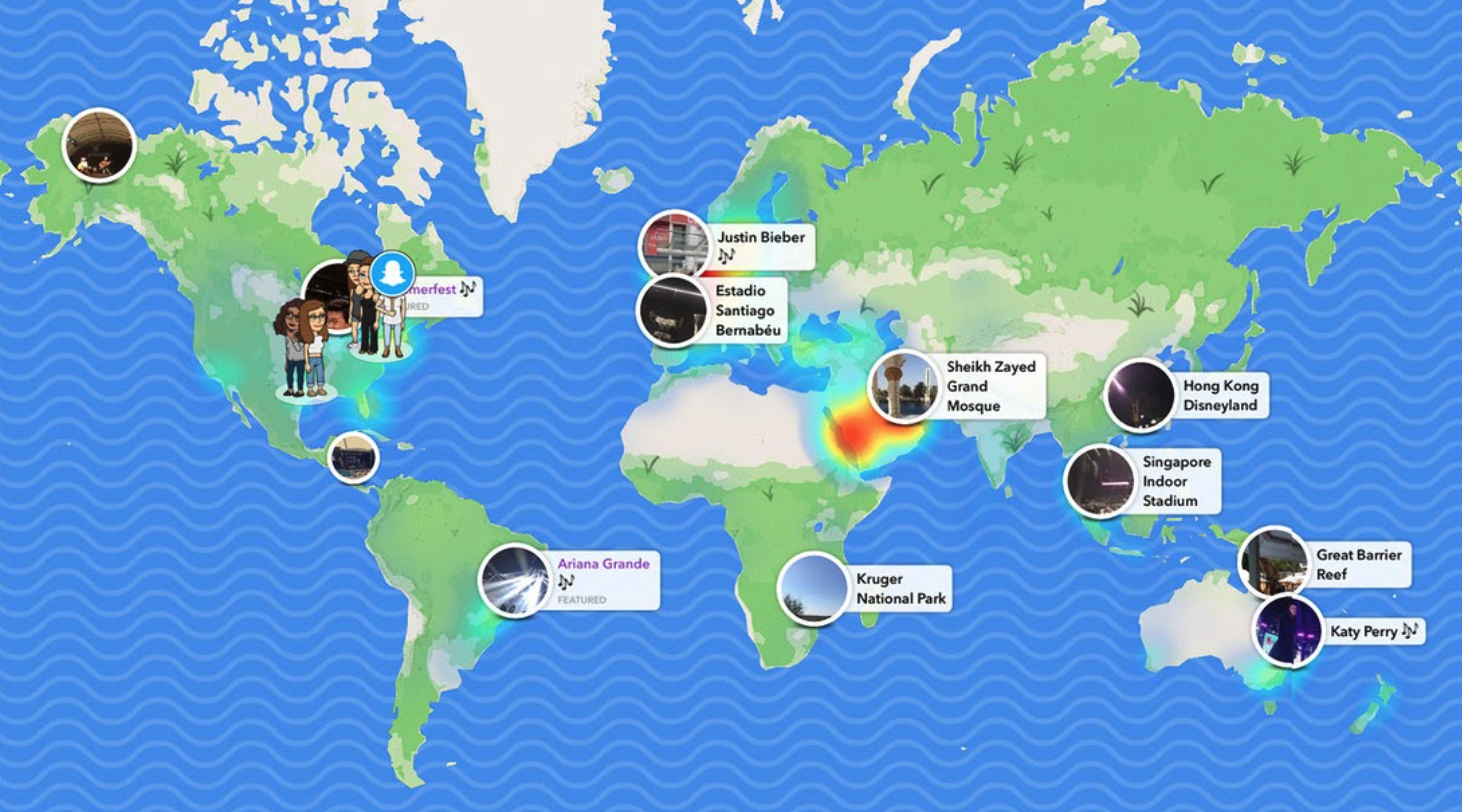 Did you know there's a generation growing up with a map that's personal and social, showing where their friends are in the world and what they're up to at any moment in time? In the future, when they travel, they will expect maps to be more dynamic than they are today. What cool events are happening in the city I'm in? What's the vibe of this cafe or shop I want to check out today? What does this place or landmark look like right now? Maps like Snap Map, largely powered by the tech startup Mapbox, make it all possible.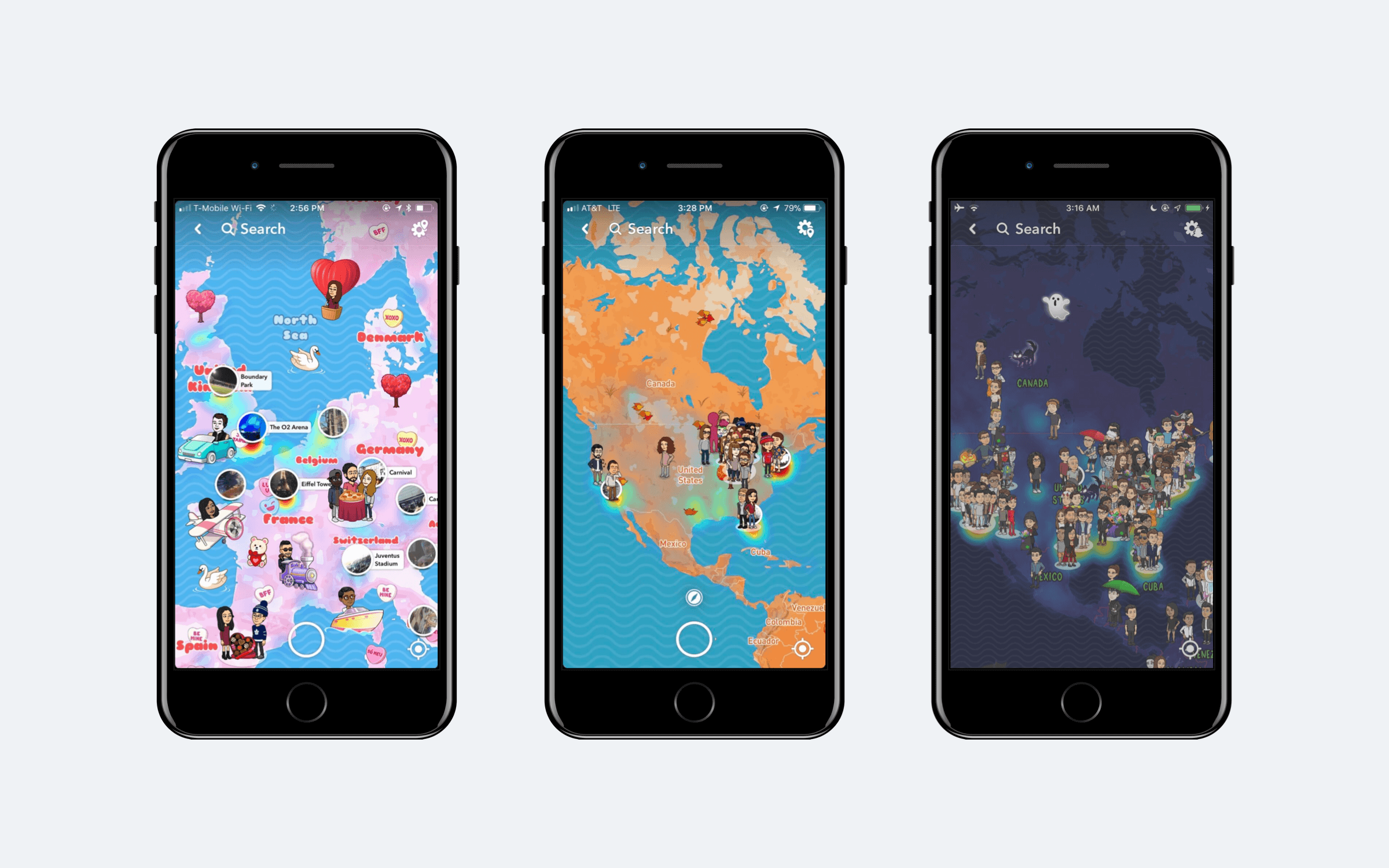 While it's easy to dismiss Snapchat as a trendy app for teenagers leveraging disappearing images with fun AR filters, it's smart to remember Snap is a camera company now used by 75% of 13-34 year olds in the US. It reaches more people than both Twitter and TikTok combined, and has even expanded globally into major emerging markets like India. When the world was especially turbulent in 2020, users could zoom into any place on Snap Map to see what was happening live on the ground through Snapchat Stories shared by the community.
Why does it matter that Snap is a camera company? Because they're a quiet powerhouse in AR. Snap Landmarkers helps creators build filters for various landmarks around the world. It's a fun way to add, experience, and share a creative layer to iconic places like the Eiffel Tower, the Taj Mahal, the Chinese Theatre, and the Capitol Building. [Learn more about the making of AR Landmarkers here.]
And Snap Local Lenses makes it possible to build right on top of any neighbourhood and decorate buildings with a colourful paint experience with friends. [Learn more about the making of AR Local Lenses here.]
On the more practical side, Snap Scan gives anyone with a camera phone faster knowledge about the world around them. Want to know what plant, tree, or dog you're looking at in a new place? Just use the Snapchat camera with PlantSnap to identify 90% of all known plants and trees or Dog Scanner to recognise almost 400 breeds.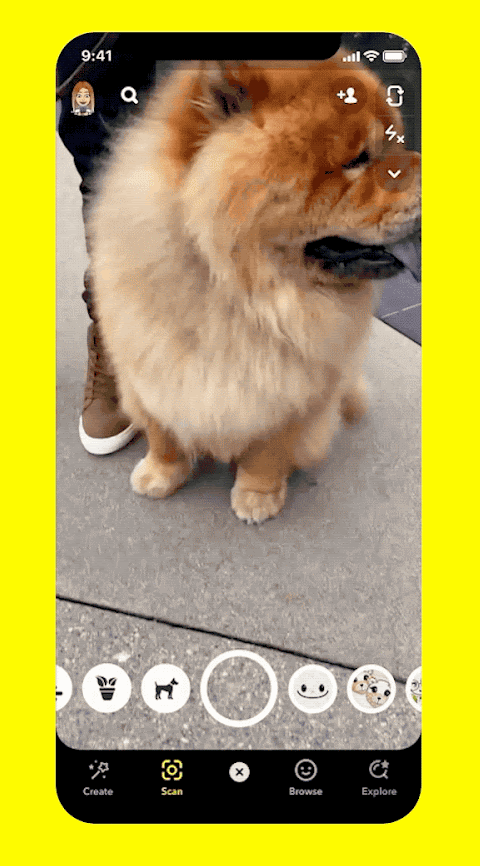 4. The future of travel will include hypersonic rockets—and space travel for Earthlings
SpaceX plans to fly their rockets like an aircraft and do both point-to-point trips on Earth and journeys to Mars in the next decade.
"You can take off from New York City or Vancouver and fly halfway across the globe. You'll be on the [Starship] for roughly half an hour...and the longest part [of the trip] is actually the boat out and back," Gwynne Shotwell, SpaceX's long-time President & COO told Chris Anderson in a 2018 interview. "It's definitely going to happen. This is definitely going to happen...within a decade for sure"
But will anyone be able to afford it?
"So, the first ship is going to have roughly 100 passengers. Everyone thinks rockets are really expensive and to a large degree they are. And how could we possibly compete with airline tickets here?"

Shotwell explains, "But if you think about it, if I could do this trip in half an hour to an hour, I can do dozens of these a day, right? ... So, even if my rocket was slightly more expensive and the fuel is a little bit more expensive, I can run 10X what they're running in a day and really make the revenue that I need to out of that system."
Using the same capability, Shotwell believes SpaceX will land the first human on Mars in the next decade in a trip that will take three months. And for the crazy ones who want to help build this future, Musk tweeted in June 2020 that "SpaceX is building floating, superheavy-class spaceports for Mars, moon & hypersonic travel around Earth" with a link to jobs they're hiring for in Texas.
5. The future of travel will be integrated and Duffel will power it
The future of travel will feel frictionless. Flight delayed? The rest of your trip will update automatically, meaning no need to waste time changing airport pickups, hotel bookings, and dinner reservations. From developer integrations like Snap Minis that could mean travellers are booking trips collaboratively with friends inside the Snapchat app, or inside WeChat in China or Yandex in Russia—more planning and more travel will happen within a single app that's also used for chat, maps, and other social experiences.
The companies leading with developer-first platforms and top-notch dealmaking teams will be the winners that make it possible. Former Uber COO Emil Michael, the prolific dealmaker of the company's $100 million American Express partnership and the sale of Uber China to Didi for $8 billion after building it in just 24 months with $2 billion in subsidies, recently argued against the "great companies are bought, not sold" adage on the podcast Operators with Delian.
Instead, Michael suggests dealmakers who win are those who lead business development functions with a long-term mindset—meaning they're always building relationships with potential acquirers to call and create tension quickly when considering a sale. Dealmakers who operate like this will become the ultimate builders of the frictionless future of travel.
Duffel and the Future of Travel
It's still the very early days for Duffel.
Skift called Duffel "the startup that could bring airline ticket shopping to Amazon" following the launch of our self-serve Flights API, which enables anyone to start selling flights fast.

Steve Domin, Duffel's founder/CEO, even shared a quick demo showing how to book a flight in just five minutes with less than 20 lines of code.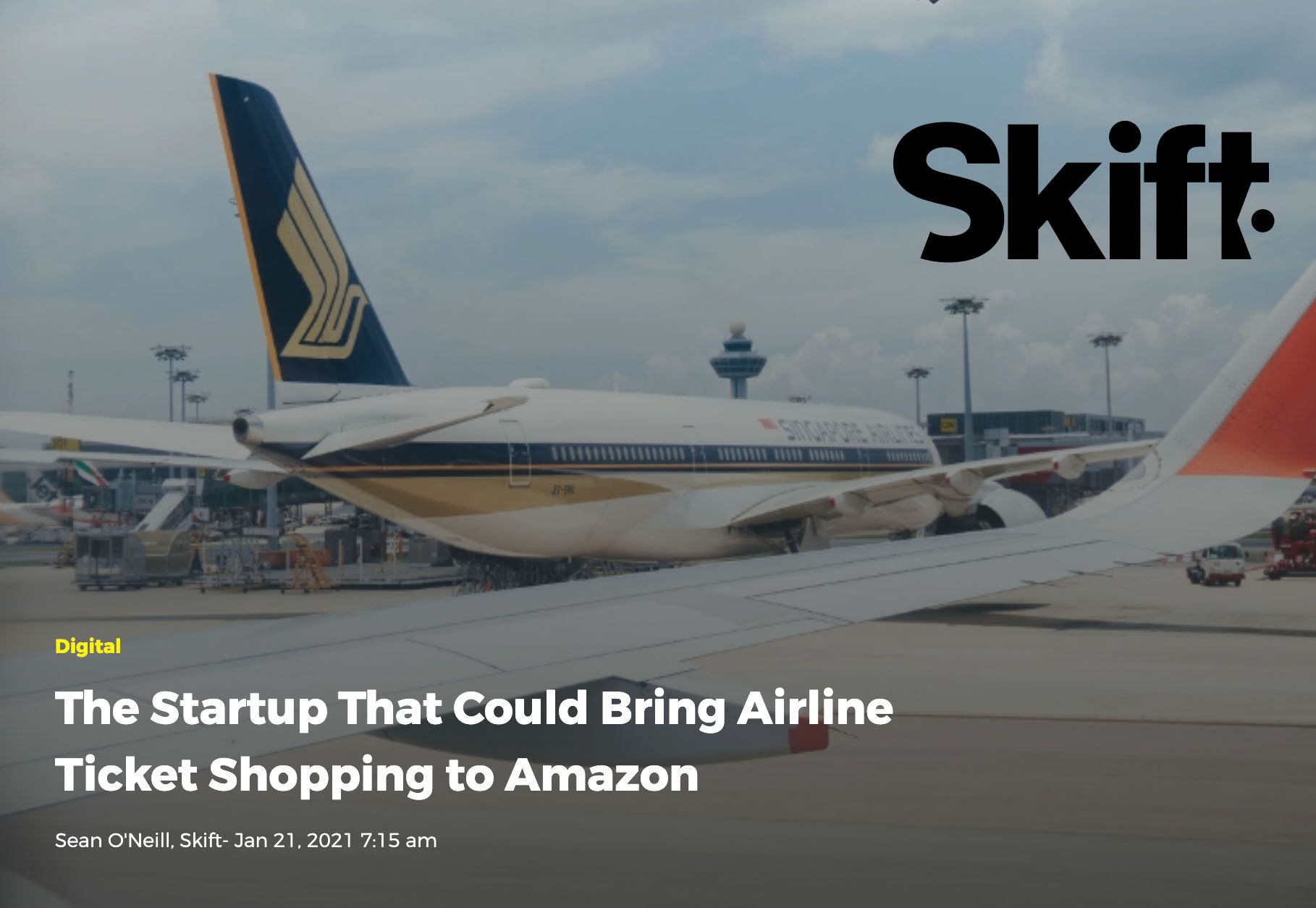 In the future, Duffel will power the infrastructure for travel across every major platform. In the same way Stripe, AWS, and Shopify rebuilt the infrastructure for payments, compute, and entrepreneurship, Duffel is becoming the new operating system for travel. Meaning? This is big.
The pandemic, however, looms larger—much of the world is still in the very dark days of it. The loss of life and the collective loss of human potential it represents is harrowing. Yet the progress and speed at which science and technology helped accelerate vaccine development in the past year is where we can find slivers of light.
And with that, we remain patiently optimistic and still believe in a future where travel will once again have the power to bring people together.
Companies from around the world like Milla Travel (Chile), Ulysse (France), Bacarai (US), and neobank Pelikin (Australia) are already powering a revolution in travel as they build with Duffel. It's easy to get started for free. We're even waiving fees and giving every customer their first 1,000 orders for free in 2021 with our Starter plan.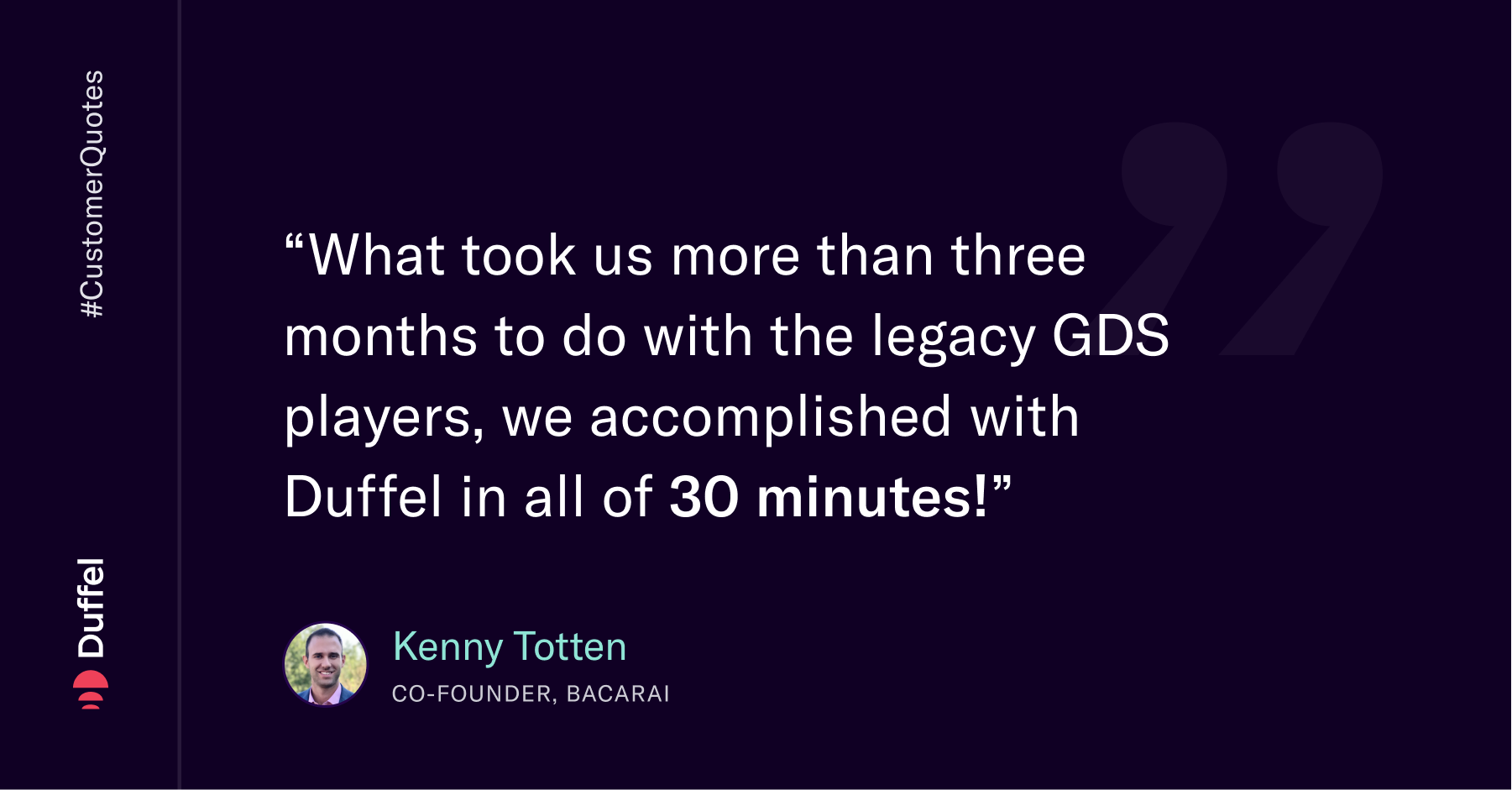 Want to help shape the future of travel?
We're hiring in London and New York. Duffel is one of Y Combinator's Top Companies, one of the most exciting fast-growing UK tech companies according to Growth Business, and honoured by Otta's 2021 Rocket List as one of the fastest-growing companies in London to accelerate your career.