Three criteria Worldia used to select Duffel as their flights API provider

Worldia is a platform that allows users to build a custom itinerary for their trip. It is a one-stop shop simplifying the way travellers can explore and book flights, transfers, accommodation, car rentals, and even experiences.
Choose a destination.
Customise your trip (dates, visits, hotels).
Check quotes and availability in real time.
Book online.
Customers can book directly on Worldia's platform, but travel agencies can also leverage their white-label solution. There are already thousands of travel agencies using Worldia across Europe today.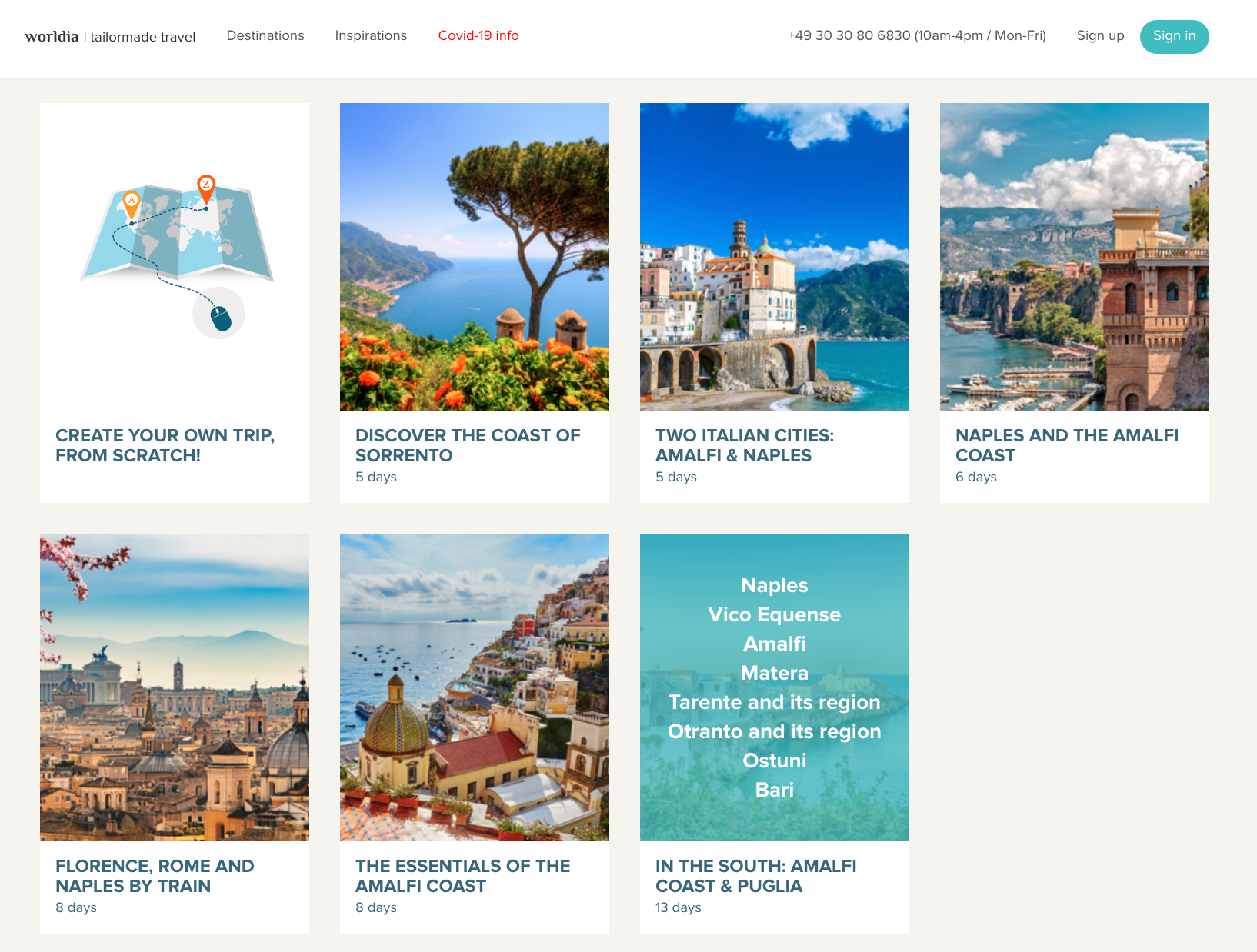 Evaluating Flights API Providers for NDC Content

Worldia is always looking for ways to improve every step of the trip planning experience. Earlier this year, they began to consider integrating New Distribution Capability (NDC) content into their platform in order to improve the flight booking and management experience for travellers in the future.

When evaluating potential partnerships, they used three main criteria:
Airline coverage
Economics
Technical perspective

Worldia looked at their data on airline coverage and identified the top 20 airlines from a booking perspective. They then compared that list of airlines to the coverage available with flights API providers offering access to NDC content.
From an economics lens, they were looking for the right long-term partnership with pricing that worked with their current business model and future growth.
Finally, from a technical perspective, they wanted a partner that was aligned on their vision for travel - both for today and for the future. They wanted to build a specific flight experience and have the provider able to deliver. And they wanted to feel like a partner and not just a customer - have their needs heard with teams available to support.
Each of the criteria were equally important. Worldia was looking for an API that blended all three together. David Parlange, COO of Worldia described their ideal partner  "like taking a mixer, putting in the criteria, shaking it up, and pouring it out."
Outcome

David met Steve Domin, co-founder and CEO of Duffel, a few years ago through a mutual connection. At the time, Duffel was still in "stealth mode" - having a vision and the start of a product, but not having officially launched. Worldia also at that time was not in a place to focus on NDC implementation. Fast-forward a few years and now NDC is starting to become more widely available with airlines, Worldia is continuing to grow their business and wanting to enhance the customer booking experience for flights, and Duffel is continuing to grow as well, supporting more airlines and features.

So when David and the team at Worldia started to evaluate flights APIs against their criteria, Duffel was on the list. From there, Duffel started ticking all the boxes, and the choice was made to select Duffel's Flights API as their preferred provider for flight content.

The first step was then for Worldia to complete on-boarding and learn how to integrate with a new airline.

"The product is simple and user-friendly. Getting started was also really easy for 2 reasons:

1. Airline integration was easy. Documentation was clear on how to integrate, the process was straight-forward, and the team was available to answer any questions. In a short period of time we already had access to 10 airlines.

2. The use of common tools, especially Slack. Easy communication is really important and our whole team could have access to the shared channel - it felt like we had a dedicated team of support."  

David Parlange, co-founder and COO of Worldia
What's next?

Worldia's vision is for travellers and travel agencies to book and manage any kind of trip on their own with ease. Worldia wants to help their customers do whatever they need - to be the support system providing the best travel booking experience. Together, Duffel and Worldia are looking ahead to opportunities around complete service offerings - at the time of booking and after booking - including luggage, seat selection, select fares, and more.

"We are thrilled to partner with Worldia after discussing the possibility for some time. It's great to align with a company who has a similar vision and wants to provide the best flight booking experience possible. With the launch of new airlines monthly, it's exciting to see how quickly Worldia can increase their coverage - such as getting access to easyJet flights the same day we go live. We look forward to supporting and empowering more businesses by providing an easy to use platform and continuously adding new airlines and features each month."  

Steve Domin, co-founder and CEO of Duffel
Interested in getting started? Sign up to Duffel today!