Product Updates
Duffel launches Hold Order & Pay Later


Flight availability can change quickly. As a travel seller, one of the worst-case scenarios is a flight selling out after you've offered it to your customer but before they confirmed the booking.
This scenario is more likely to happen in corporate travel because an approval process is usually required when booking a business trip. A long wait for a trip to be approved can result in losing the flights altogether, forcing you to go back to square one. This issue compounds the more your business grows and the more flight bookings you manage.
Our new Hold Order & Pay Later feature gives you the option to hold a seat on a flight for a predetermined period of time, and where it's available, holding the price as well. You are then able to delay paying for the flight to any time within the period given.
Flavio Del Bianco, co-founder and CTO of BizAway (the all-in-one solution to book and manage business trips), explains how important Hold Order & Pay Later is to their business: "Duffel's new feature is fundamental to successful business travel. Flexibility is paramount to our corporate customers and this functionality gives them full confidence in planning their business trips and eliminating the risk of losing out on flights."
Beyond having the flexibility to hold a seat, this feature also helps with improve other aspects of your business as a travel seller:
Fraud is an unfortunate but common concern in the travel industry, and anyone selling travel needs to incorporate time to check payments for fraud in their process. Hold Order & Pay Later allows you to hold the seat while you run fraud checks in the background, reducing the risk of any unexpected costs.
Depending on the airline, Hold Order & Pay Later allows you to not only hold a seat but the price as well. In this instance, you can collect the payment from your customer before paying for the flight itself, freeing up cash that you could reinvest into other areas of your business.
Additional revenue source
Travel sellers can also choose to charge for this service, similar to what airlines do on their websites today. For example, British Airways charges users £5 per person to hold the flight price for up to 72 hours. Typically the charge is refundable if the flight is confirmed within that time.
How it works:
When you search for flights in our API, we return a series of search results which we call "offers".
On each offer, we tell you whether the Hold Order & Pay Later feature is available. Some airlines only guarantee the space, whereas others guarantee both the price and the space. In the API, we tell you exactly what is guaranteed, and how long it's guaranteed for, so you know exactly what options to show your customers:
If you want to hold seats on a flight - and price, where available - you'll need to create an order, and select the hold option: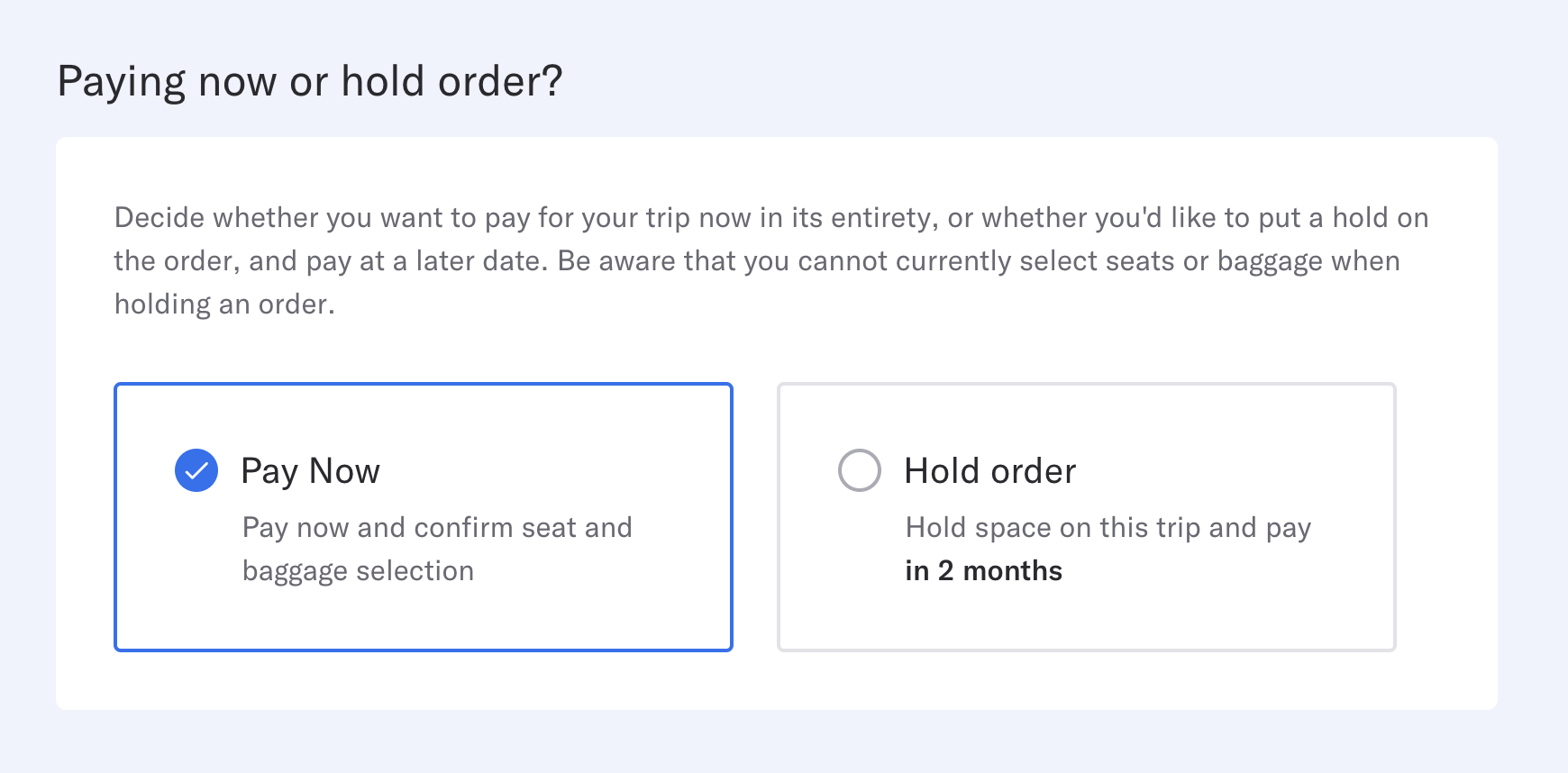 You can pay whenever you're ready, up until the deadline. If there is no price guarantee or the price guarantee has expired, you'll need to "reprice" the order to get the latest price before you pay.
If you don't want to go ahead, you can cancel the order or just leave it and it'll be cancelled automatically once the "payment required by" deadline passes.
How to get started
Hold Order & Pay Later is available now via the Duffel API and in our dashboard. Currently, the feature is supported for American Airlines, Austrian Airlines, British Airways, Brussels Airlines, Lufthansa, and SWISS. We'll be adding more airlines soon.
To learn how to use Hold Order & Pay Later in your Duffel API integration, check out our step-by-step guide.
Sign up for Duffel here!