Life at Duffel
Joining the Duffel design team: our first three months on the job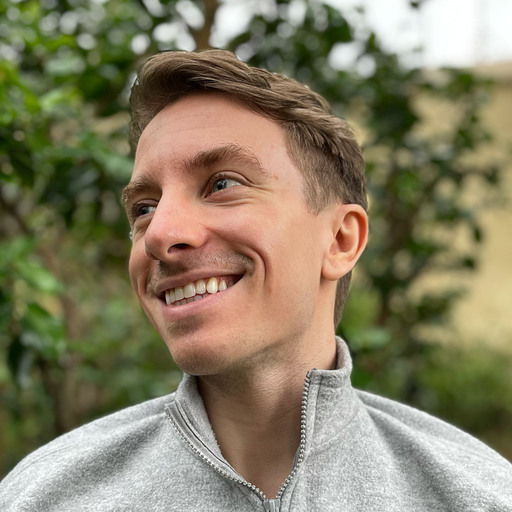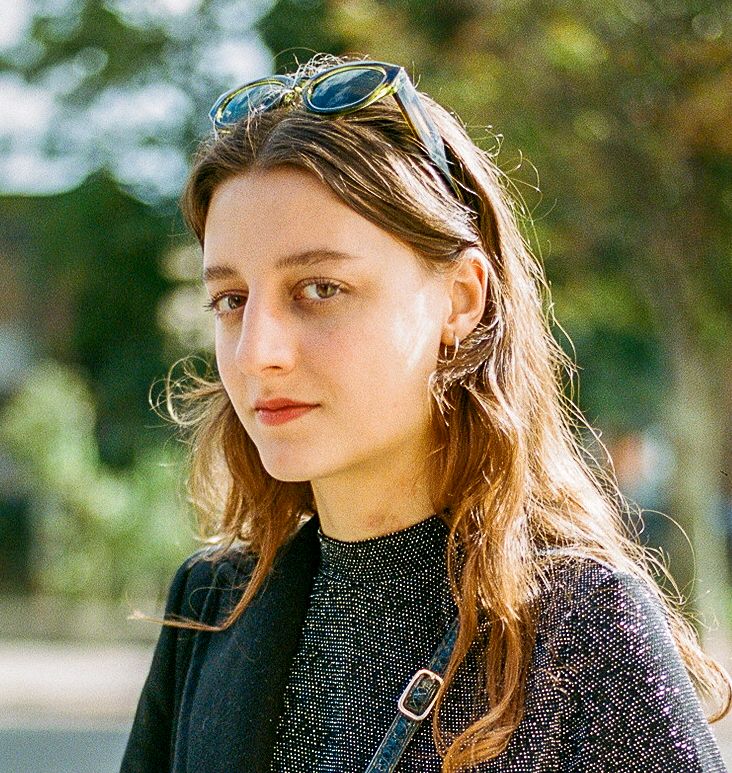 What is it like working as a designer at Duffel? We interviewed our latest additions to the brand design team – Jack and Medeea – to find out about their first three months.
Tell us a bit about yourselves
Medeea: I'm originally from Romania but left the country with my family when I was seven. Since then, I have lived in Costa Rica, Panama, Spain – finally moving to London at the age of 17 where I discovered graphic design and went on to study it at Ravensbourne University.
Before Duffel, I interned at a total of seven different design studios and did one year at a children's fashion brand before landing at a stakeholder comms agency where I worked almost exclusively on print-based projects for two years.
Jack: Where I'm from is much less exciting – I've lived in Leicester, England my whole life. I practised fine art for many years before studying Visual Communication at Loughborough University which opened me up to the world of Graphic Design.
For the past four years I've been working as a freelance designer. I've been fortunate enough to work with brands such as Raspberry Pi, Mitsubishi, Network Rail and Primark. And before contracting, I worked in-house for a few product companies and design studios.
So, what made you choose Duffel?
Medeea: Before my interviews, I was looking for a team of people with whom to get excited about design and the shared sentiment of working together towards a common goal. In this case "The Future of Travel" – how exciting does that sound!? Also, the idea of joining a startup and a small team sounded super exciting to me, getting a chance to really add to the brand, make a difference and help shape it in its early stages.
During my interviews I had the pleasure of meeting eight awesome people and got to ask them all about the company culture first-hand. I could tell that people at Duffel are carefully selected, they are super talented, genuine and caring. I had never known a company to care so much for its people's wellbeing and happiness.
Jack: Similarly to Medeea, I wanted to join a company where I'm invested in what I'm designing compared to freelancing where you eventually have to hand the work over and step back.
I was also extremely excited to find out how design driven Duffel is, with one of the two co-founders being a designer themselves. It's been incredible to be part of a company that holds design in such high regard.
What were you doing before Duffel, and how is it different?
Jack: After contracting for the last few years I went through working as the sole designer on projects to being part of focused teams. I learned a lot in terms of how to manage clients, but there is only so much you can learn on your own. Especially when you're the only, or most senior, designer on a project.
Since joining Duffel a few months ago, I've learned an incredible amount. I'm actively encouraged to find the best answer to a problem, while making sure I have the chance to learn and grow on every project. This growth mentality is at the heart of Duffel and is especially important while working to change the future of the travel industry.
Another important factor for me is the hybrid model of working – Duffel understands not everyone works best being in an office 24/7. We're a teamwork-focused company and a part of that means being able to meet up and work collectively. So there will always be a need to be in-house, along with the flexibility to work as you prefer.
Medeea: I was working as a graphic designer for a 20-year-old corporate comms agency, mostly designing annual reports for a wide range of clients. I didn't love that every project was a completely new brand with a different story, different audience, and brand guidelines. It was a lot to take in every time and it meant working within strict parameters that didn't allow for as much creative freedom.
At Duffel, I love the idea of helping shape the brand. I've been able to take the time to study it, internalise it, and really feel like a part of it. And while we work with one brand, the outcomes take so many different forms (website, events, swag, etc).
There are also lots of social events, opportunities to hang out, and everyone is encouraged to just be themselves. It's awesome to be part of such a genuine, open-minded, and caring team of people.
What does a typical day at Duffel look like?
Medeea: It's pretty flexible, but I typically start at 9am and then we have a daily "design team standup" at 9:45am. This gives me time to plan my day, catch up with any emails, do some reading, or start on a project, which could be anything from designing new swag for an event (socks, event stands, water bottles or stickers), assets for pitch decks, or a new page on the website.
As a team, we're very collaborative, and frequently hold design critiques to  present our work and get feedback from the design team. This is super enriching and really keeps the ball rolling with minimum time of being blocked. Everyone has their input and opinion taken into account, so it really feels like a team effort.
Jack: We also have fortnightly, company-wide design critiques where we have the opportunity to present work to the rest of the company. This allows us to keep in-house visibility high, something I massively appreciate. Being "visible" is something the whole team strives for, I find it rare that I'm not aware of the direction and goings on of other teams.
Project-wise, I find myself consistently working on new and interesting stuff. This keeps work interesting as I grow not only my design skills – learning from myself and my peers - but also other skills such as stakeholder and time management.
What have you worked on so far?
Jack: Duffel understands how overwhelming it can be to take on a new role. "New joiner" tasks are provided in the first two weeks to give you a chance to flex their creative muscles while adapting to the Duffel ecosystem.
Medeea and I were very fortunate to join prior to the "new brand direction" project. This was a very exciting time to start at the company and the first time I'd worked in a design team for some time. Learning different processes in this project was especially interesting and in a couple of weeks I'd learned so much from my peers and leadership.
The branding project was also a great opportunity to see how much creative freedom we're given at Duffel. I'm proud to say the results of this project is no one person's work, but a cumulative effort, and I can't wait for the launch!
Medeea: I had a couple of pretty cool new joiner tasks. My first one was to design a logo for our placeholder airline "Duffel Airways". And the second – internal team logos – which worked out as an awesome ice breaker for me to introduce myself to at least one person of each team – this made me become more visible quite early. People were also really excited as it's a fun and creative project for them as well.
Alongside the branding project, I've also worked on quite a bit of swag and event material. I designed some cool enamel pins as tokens of appreciation for one of the teams, our 4th Anniversary gift (a branded aluminium water bottle), socks, event stands, and much more. It has been so rewarding to see these designs take physical form.
Have there been any challenges since you joined?
Medeea: When you start there is definitely a lot to learn, especially if you haven't worked within the travel industry previously, like me. This can feel a little overwhelming, but when you see the level of organisation on Notion with documentation on everything that you need to get started, I calmed down a little as it's very well organised – and it all looks so satisfying!
Everyone is super understanding and you get plenty of time to read and learn. I'm still learning new things everyday.
Jack: Agree, coming fresh into the travel industry can be daunting, there's a lot to learn and it's very important to have the context in your work. The level of support and guidance Duffel provides is second to none. You're given a competent set of documentation which covers everything from travel terms and industry facts to team compositions and processes.
Being on a team where everything is documented and easily accessible has created the best onboarding experience I have ever seen!
What are you looking forward to?
Jack: We're all very excited to see the new brand refresh roll out, it's always a joy seeing stakeholders react to it. Personally I can't wait to see its impact and start applying it, looking for ways to mould foundations into new and inventive marketing elements.
I'm also looking forward to seeing the possibilities of the new design system, how our component repository will incredibly improve our speed and efficiency as a team.
Medeea: I'm also super excited for the launch of the brand refresh! We've been working on it for a while and seeing it everyday so it will be super rewarding to see it all go live.
In general, I'm looking forward to seeing Duffel grow and get closer and closer to making travel effortless – expanding into other areas of travel. Just so excited to be a part of this revolution!
Are there any opportunities to join the team?
Medeea: Check out the Duffel careers page to find details of any Design opportunities. And if there aren't any that match what you're looking for, I'd definitely suggest submitting an open application in case a new role opens in future.