The world is moving fast, but the technology powering the travel industry hasn't kept up. Much like Stripe, AWS, and Shopify rebuilt the infrastructure for payments, compute, and entrepreneurship, Duffel is rebuilding the infrastructure of travel.
Historically, these industries made it difficult for new players to enter due to long and complicated integrations, and prohibitively steep volume and investment requirements to get started. And history has shown when technology platforms make it easier for developers to access the plumbing underneath it all, industries are democratised and a revolution can begin.
Because travel software was built in a bygone era, we founded Duffel in 2017 with a simple idea: that democratising access to the infrastructure that underpins the travel industry would unlock much-needed innovation and create tremendous economic opportunities for both sellers and suppliers.
I'm proud to share that we've reached a significant milestone in our quest to transform travel. Today, with the launch of an entirely new self-serve platform, we're making it possible for anyone to sign-up and start selling flights in just minutes – without having to interact with anyone on our team. We're also announcing Duffel Content, a new service that enables travel sellers to use our Flights API without the need for airline relationships and travel agent accreditation.
Where do you want to go?
One percent of the global GDP was spent on air travel in 2019, yet 50 percent of trips were still booked offline. For trips booked online, studies show that consumers often visit dozens of websites before booking. As the next generation becomes the primary driver of the economy, it's important to remember they have only known life with the internet – they expect online experiences, offers, and rewards to be personalised, mobile-first, and frictionless.
For travel sellers, Duffel is bringing efficiency to the market by allowing businesses of every size – from solo founders to public companies – to quickly embed online booking experiences everywhere. We offer full access to airline reservation systems through a single integration, and our APIs come with unparalleled documentation and outstanding support.
Ulysse, a new player in the online travel space, is powered by Duffel. They're getting rave reviews and maintained a near-perfect 4.9 rating on Trustpilot throughout the worst of the travel industry downturn in 2020.
"We chose Duffel because it was a tech company that focused on the developer experience. It has great APIs and schema, really the only one that does that today in the market. We also shared a similar vision of the future of travel," said Ulysse CTO Lancelot Hardel.
On the other side of the marketplace, Duffel enables airlines to reach new sellers, increase revenue, and reduce costs. We can onboard and support thousands of new merchants in a way the airlines just aren't set up to manage. We also drive new, high-margin opportunities through paid extras like baggage and seat selection. And with a growing selection of airlines' servicing APIs, we allow merchants to own the post-booking experience end-to-end, and reduce the overall customer support volume for airlines.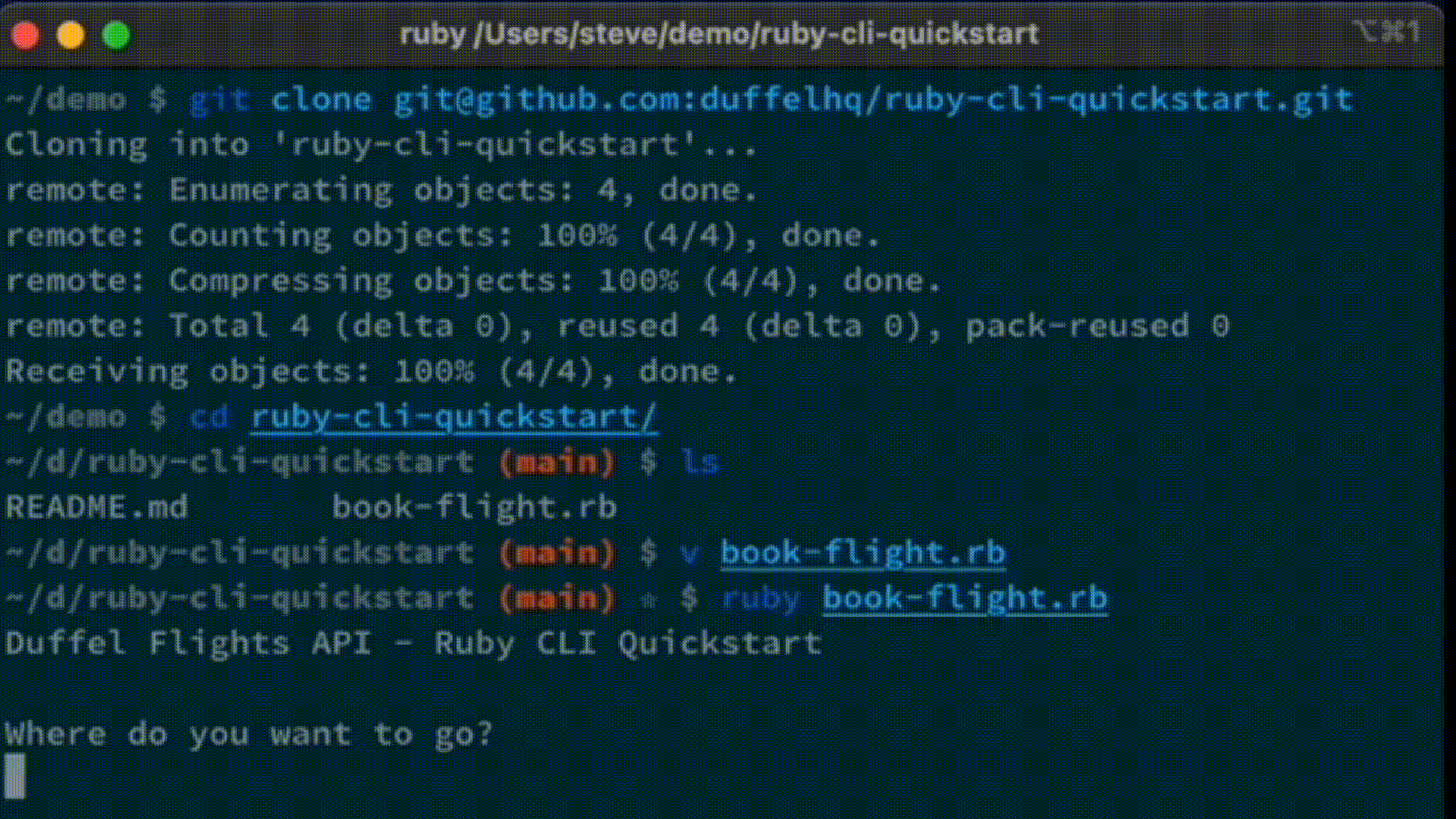 Start packing your bags
Duffel is here. We're builders at heart who've worked hard over the past three years to create the platform that we wish existed a few years ago. With Duffel Content, a service offered on our revolutionary self-serve platform, any business looking to offer flights as part of their wider service offering, gets the power of a full-stack travel agency at their fingertips with just a single integration.
Before Duffel Content, a new business attempting to enter the travel industry would have to:
Sign a contract with a GDS that can take weeks or months
Obtain the necessary governmental licences
Secure bank guarantees that can cost up to $50,000
Apply for an IATA or ARC accreditation
Get authorisation from each airline to resell their flights
Repeat this process from scratch for every market
Now, thanks to Duffel Content, these businesses don't need to worry about the enormous time, cost, and complexity of integrating with traditional flight distribution players or handling accreditation processes. For a small fee per order, Duffel Content enables sellers to access five points of sale (GB, US, FR, AU, IE) and content agreements with 20+ airlines. It means businesses can start selling flights almost instantly.
Australian digital neobank Pelikin was among the first customers to use Duffel's self-serve platform as it prepared to offer its customers the ability to book flights from within its banking app.
"Offering flights via our app has been a feature we've been keen to add but getting all of the various accreditations and building a platform capable of doing it in a way that benefits our customers made it almost prohibitively difficult and time-consuming.

"Not only does Duffel remove these barriers, but its self-serve platform is also incredibly intuitive. Each step is self-explanatory, and we were pleasantly surprised by just how quickly we were able to build the ability to offer this game-changing feature to our customers," explained Sam Brown, CEO of Pelikin.
Now boarding
In a recent report, IATA wrote that 2020 was "the most profound de-connecting of modern society since World War II" – and with scheduled air passenger traffic down 60% to 1.8 billion passengers, a level not seen since 2003, that might even be an understatement.
We're still in the throes of the pandemic, and the loss of human life is so staggering that it's hard to comprehend. It's easy to be cynical about the world and especially about the travel industry right now. We remain hopeful and encouraged by the scientific progress we saw in 2020 with novel vaccines produced at unprecedented speed.
As we ramp-up toward mass vaccination worldwide, we see various strategies for helping the travel industry recover. In addition to progress with vaccination programmes globally, we're optimistic about many of the testing programs implemented by airlines and industry alliances coming together through IATA's TravelPass and the World Economic Forum-powered Common Pass.
At Duffel, we've seen the depth of the crisis first hand and managed to cross some significant milestones last year, including:
Gross bookings up ~2,100% year-on-year
Go-live with some of the largest airlines in the world, including United, Emirates, Southwest, Cathay Pacific, and Transavia
Enabling paid extras, seat selection, airlines' fare brands, and support for identity documents through our API
We also want to do our part to help the travel industry build back better, so we're offering our Starter plan entirely free and waiving all fees on every customer's first 1,000 orders in 2021.
Today marks the beginning of a new era for travel innovation. We're excited to launch our self-serve platform and to introduce Duffel Content. Stay tuned as we announce a host of new airlines and major product features over the next few months (💺🗺, 🔁,💰📆). We're excited to see Duffel become the platform builders use to create the future of the travel.