Starting a travel business that offers flights can be difficult – but it doesn't have to be.
New startups might look at the tens of thousands of businesses worldwide selling travel and think it seems straightforward to access inventory (also known as content). The reality has been far from easy with long and expensive processes that involve dealing with countless intermediaries, regulations, and outdated technology.
Duffel has removed the hurdles to help businesses go to market with flights faster. Let's explore the process to understand how new travel sellers can get started with ease.
How to get started selling flights on your own
In order to start selling flights, there are four areas to cover:
1. Accreditation
This important first step recognises travel sellers within the industry. International Air Transport Association (IATA) is the most common platform for worldwide flight accreditation. The second is the Airlines Reporting Corporation (ARC) for US-based travel sellers.
2. Government-imposed local licensing
Local travel agent licensing is required at state and country-level to recognise authorised travel sellers. This is in addition to industry accreditation and is required in more than 50% of locations, including Canada, some US states, and the majority of European countries.
3. Ticketing authority
Most airlines require travel businesses to request for the authority to ticket or the right to sell before they can officially sell flights from that airline. It gives airlines an opportunity to review and approve who is distributing flights on their behalf. Each airline has different approval criteria and rules for which businesses need to apply.
4. Ongoing management
Accreditation, licensing, and ticketing authority are just the start. Travel businesses have day-to-day responsibilities to maintain their ability to sell flights including reconciliations, financial reviews, and monitoring changes in laws and approval criteria.
Typical approval flow to start selling flights: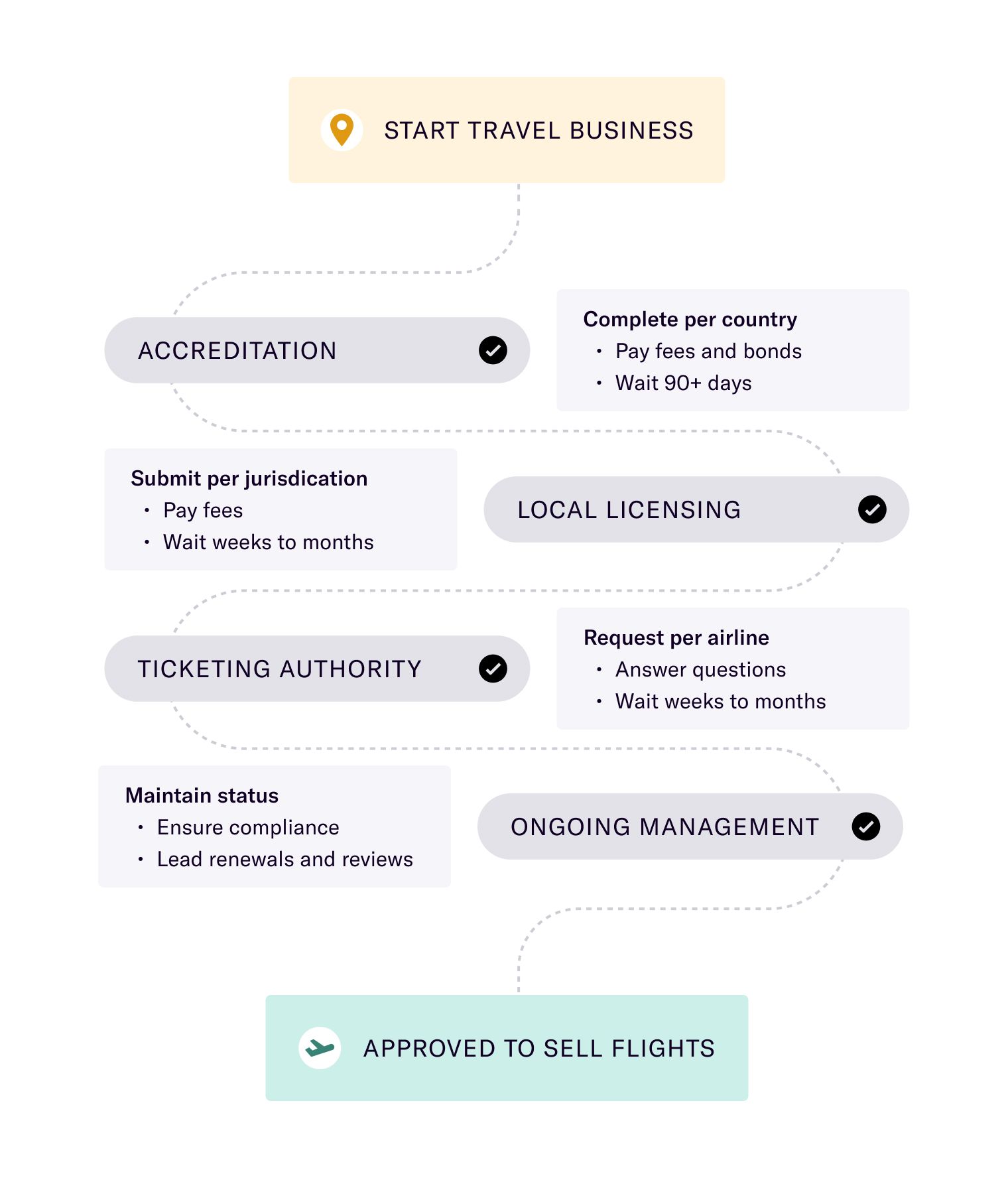 1. Accreditation
IATA accreditation
The International Air Transport Association (IATA) currently oversees 60,000 travel agents, 290 airlines, and 83% of global air traffic. The organisation operates the Passenger Agency Program which facilitates the promotion, distribution, and sale of international flights by accredited sellers.
There are two accreditation programmes available: Full IATA Accreditation and Travel Industry Designator Service (TIDS).
Full accreditation gives travel sellers authorisation to sell international and domestic flights on behalf of airlines. This is the best option for most businesses looking for comprehensive scope to issue flight tickets.
TIDS was originally established for travel businesses outside the airline industry to become recognised suppliers using the official IATA coding system. However, it's only an industry identifier and doesn't authorise businesses to issue airline tickets – travel sellers will need to work with an intermediary or apply for full accreditation.
Full IATA accreditation
Achieving full IATA accreditation will give travel sellers a unique 'IATA Numeric Code' that's recognised across the industry. This code brings credibility for a travel business and helps with building strong supplier relationships.
Fully accredited agents will also get access to Billing and Settlement Plan (BSP). This system is designed to facilitate and standardise the selling, reporting, and remitting procedures between airlines and travel agents.
The accreditation process takes months to complete and requires in-depth industry knowledge and significant upfront investment. This is one of the first big hurdles for a travel business to get started.
It's also important to note that IATA accreditation rules and fees are 'one size fits all' regardless of volume. These may differ by country and business, for example additional fees apply to subsidiaries and international offices.
The application process
Firstly, new travel sellers must read the comprehensive Travel Agent's Handbook: the 2021 version is 746 pages long. This document outlines the rules, commitments, responsibilities, and procedures governing travel agents. The handbook is updated annually and it's the travel sellers' responsibility to review changes and update business operations or application information where appropriate.
After reading the handbook and understanding which sections and rules apply to specific business cases and locations, it's time to complete the application and provide supporting evidence.
Provide proof of business operation

IATA needs to know that a travel seller is a legitimate business. Proof includes a local legal incorporation or specific government activity licence. This will need to be completely separately for all subsidiaries.

Provide proof of financial viability

Accreditation will only be given to businesses that can show solid financials. Proof can include audited financial statements for at least the last year, copies of insurance plans, and details of recent funding rounds or venture capital investments.

Provide a bond or cash deposit per country

A bond averages about $50,000 USD per country.

Provide proof of qualification and experience

You are required to submit any information that supports company validity such as ticketing volume, airline contracts, PCI DSS (Payment Card Industry Data Security Standard requires any company that accepts, processes or stores credit card information is maintained securely)

Submit the application fee

Submit the annual fee

Nearly $200 USD per country
After an application has been submitted, it will take a minimum of 90 days and in some cases up to 12 months or more to get confirmation and become a full IATA Accredited Agent The application, including associated bonds and fees, will need to be completed for each new country and subsidiary of a business.
Typical accreditation flow: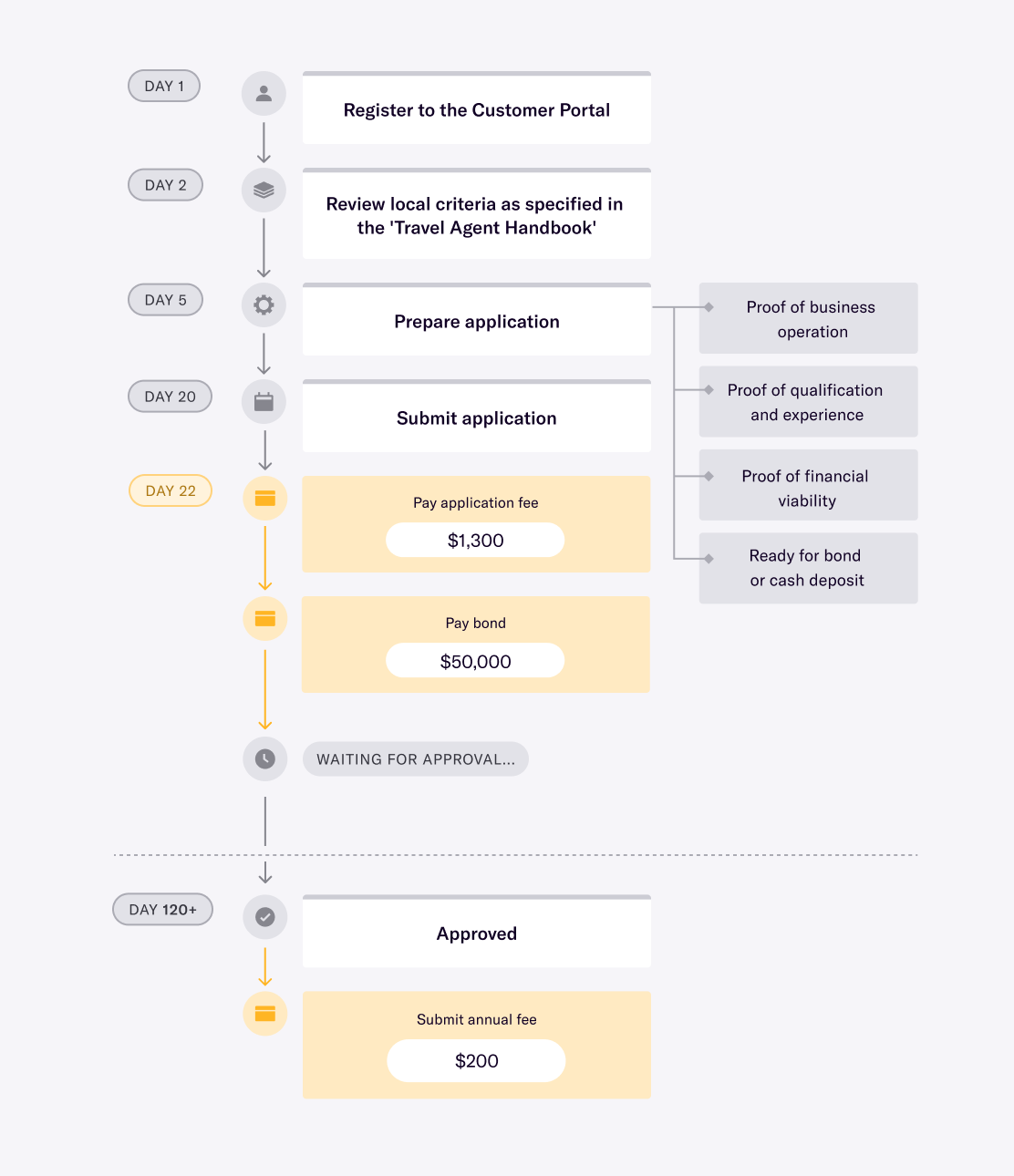 Airlines Reporting Corporation (ARC) accreditation
While IATA covers hundreds of airlines and tens of thousands of travel sellers, the accreditation doesn't cover businesses based in the United States. In this case, businesses will need to apply for separate accreditation through Airlines Reporting Corporation (ARC).
The ARC accreditation process is similar to IATA and starts with reading and understanding the ARC Industry Agents' Handbook, a 245-page document on industry compliance instructions and rules, and the Agent Reporting Agreement, a 60-page document outlining contractual obligations for travel sellers.
The rest of the process looks very similar to IATA, including requiring proof of business authorisation and licences for local / state jurisdictions. Applicants must also train and provide evidence of a designated agency manager and ARC Specialist.
New agencies must pay an application fee of $2,300 and submit a bond, letter or credit or cash deposit of at least $20,000. The total process takes in excess of 90 days.
Similar to TIDS from IATA, ARC offers the Verified Travel Consultant (VTC) programme for travel businesses to become recognised in the industry. This doesn't give businesses the ability to sell tickets and they will need to work with an intermediary or apply for accreditation directly.
Alternatives to direct IATA/ARC accreditation
For new travel businesses, accreditation is one of the biggest hurdles: it is time-consuming, complex, and involves expensive fees and bonds. Any delays in the application process or mistakes in maintaining compliance can be the difference between success or failure of a new business.
There are alternatives to applying for accreditation from IATA or ARC directly including Host Agencies, Consolidators, and new players like Duffel.
Host agencies and consolidators
For travel businesses that want to avoid the accreditation application process, they can use a host agency or consolidator. A host agency supports the technical and operational logistics on behalf of sellers and is typically used by individual contractors or small travel agents. A consolidator is an airline ticket wholesaler and is typically used in conjunction with other airline content options.
Travel sellers can access the IATA or ARC accreditation of these organisations, however, the solutions aren't ideal for new travel startups. Flight sellers will be faced with booking platforms with few customisation options and restricted fare rules. And as the bookings are made through an intermediary, it's more difficult for startups to build relationships with airlines.
Streamlining accreditation with Duffel
It can be time-consuming and expensive for new businesses to get accredited, but not when selling flights with Duffel. There are no costly setup fees, expensive bonds, or long application waiting times. Travel sellers can sign up to Duffel and use the Duffel accreditation from IATA and ARC to start selling flights from Day 1.
Unlike more restrictive solutions, airline content is accessed through the Duffel Flights API so startups can build a custom booking experience that fits their unique business needs. And thanks to direct airline connections with a growing number of partners, travel sellers can get recognised by airlines as their sales volumes grow.

2. Local Licensing
As well as obtaining IATA/ARC accreditation, many jurisdictions also require a local travel seller licence. These require businesses to provide and maintain insurance and/or financial bonds to cover consumer risks.
A travel seller licence can be required at national, state, or provincial level and the rules vary markedly between jurisdictions. For example, a licence might be needed if a travel business is based in a location or if the person buying the ticket or package is based there. In some cases, a travel seller will need to apply for a separate business licence or even set up a bank account in the jurisdiction.
The licence application process can take weeks or months and often includes an annual fee which may change year on year. For example, applications in Florida cost $300/year and applications in Hawaii cost $215/year on even-numbered years and $146/year on odd-numbered years.
Going beyond flights, the licensing rules get even more complicated. In Europe, if a travel seller offers packages, for example a flight and hotel, they need to comply with the European Package Directive along with any country and state-specific guidelines. And in the UK, package travel sellers or those without accreditation will need to apply for an Air Travel Organiser's Licence (ATOL).
Streamlining the local licensing process
Duffel removes complexity from the accreditation process to save startups months in wait times and thousands of dollars in fees and bonds. However, in general the local licensing part of the process can't be streamlined due to comprehensive legal requirements designed to protect travellers' rights.
There may be some exceptions to local licensing, for example flight-only travel sellers in the UK can leverage the IATA accreditation of Duffel as an exemption from ATOL.
3. Ticketing authority
Another step in the process is to apply for ticketing authority with airlines – this helps airlines have control and transparency into which businesses are selling their flights. There are hundreds of airlines worldwide and each has different rules making the request process complicated and time-consuming for a business to manage. In many cases, the process isn't clearly visible on an airline's website which presents its own hurdles:
Finding a point of contact at the airline
Airlines are large organisations which makes it difficult to determine who the right contact is for obtaining ticketing authority. It isn't uncommon to have to speak to multiple people across a variety of teams before discovering the right person to kickstart this process.
Answering questions
After finding the right contact, travel sellers will need to complete forms outlining their business licence, accreditation, financials and more.
Contact email
IATA Accreditation Letter
IATA Number
PCC
Business number
Organisation name
IATA Deposit
Financial statements
Expected sales volumes - for airline
Expected sales volumes - for industry
References - from other airlines
Agree to Terms and Conditions
Sign a contract where required
Variation by Point of Sale (PoS) if applicable
Waiting for review and approval
Depending on the airline, a number of teams might be involved in the approval process: Sales, Finance, Business Development. This might be managed by local offices or sent for processing at the airline headquarters.
This process timeline varies by business, country, and airline, and could take a week or up to 3-6 months with no indication upfront.
Streamlining ticketing authority with Duffel
Ticket authority for some airlines is bundled with IATA and ARC accreditation, so travel sellers using the Duffel Flights API can get started in just a few minutes without the need to get their own ticketing authority.
In addition to ticketing authority, some airlines will ask travel businesses to provide additional details or sign contracts setting out the terms of flight sales. Duffel streamlines this process as much as possible by sharing requirements with travel sellers and leveraging relationships with airlines to confirm that a business is using the Duffel platform.
4. Ongoing management
Managing accreditation and ticketing authority isn't a one-time process, there are ongoing responsibilities for maintaining status and relationships. There are serious consequences for not managing this properly, including losing accreditation, ticketing authority, government licences; damaging relationships with airlines; and ultimately losing the ability to sell flights.
Annual financial reviews
After a travel seller is accredited, IATA will regularly check up on its financial health. IATA conducts annual and sometimes ad hoc reviews. At the end of each financial year, travel sellers must submit audited accounts and financial statements to be analysed according to the local accreditation criteria.
All agents must provide a financial guarantee during the first two years of accreditation. In the third year, depending on the result of the financial review, travel sellers may not be required to continue the financial guarantee, but if there are any risks to financial stability, IATA may coordinate a further review to determine your viability.
In order to maintain ticketing authority with each airline, travel sellers may be required to share financial information with the airline on a regular basis along with detailed information on booking performance and future plans for growth.
Additional responsibilities
Ongoing management responsibilities go beyond financial reviews in a few core areas:
Maintain compliance with IATA / ARC accreditation requirements

Monitoring Remittance Holding Capacity (RHC) – this is a limit on cash flight sales when travel sellers hold funds for booked tickets until a remittance date to the airline. If a seller reaches this limit, their ability to be sell flights will be put on hold.
Re-applying for new business locations or subsidiaries
Updating or paying additional bonds

Understand changes in rules and regulations across accreditation, licencing and ticketing authority

Submitting updated information where required
Paying annual fees at the right time in the year for each location or airline

Reconcile financial records between IATA or ARC's statements and travel seller's own records, including all bookings and charges
The ongoing management also includes maintaining ​​PCI DSS compliance, supporting annual reviews and licence fees, managing communications and requests including follow-ups on refund applications, handling supplier disputes, and responding to airline inquiries.
Streamlining ongoing management with Duffel
Duffel has built an in-house team with expertise in business operations, financial accounting, travel industry accreditation and ticketing authorisation. Travel sellers using the Duffel platform benefit from our expertise without needing to invest time and money in building an in-house team of their own. Removing these responsibilities can have a big impact on the profitability of new travel startups.
5 misconceptions of starting a travel business in 2022
Follow the series 5 misconceptions of starting a travel business, to uncover four more common assumptions new sellers have about entering the travel industry.
Up next: how there may be a better solution than you think for managing flight payments.